Keyforge's Age of Ascension starter set is under £10 right now
Pick up the 'unique deck game' for better than half price.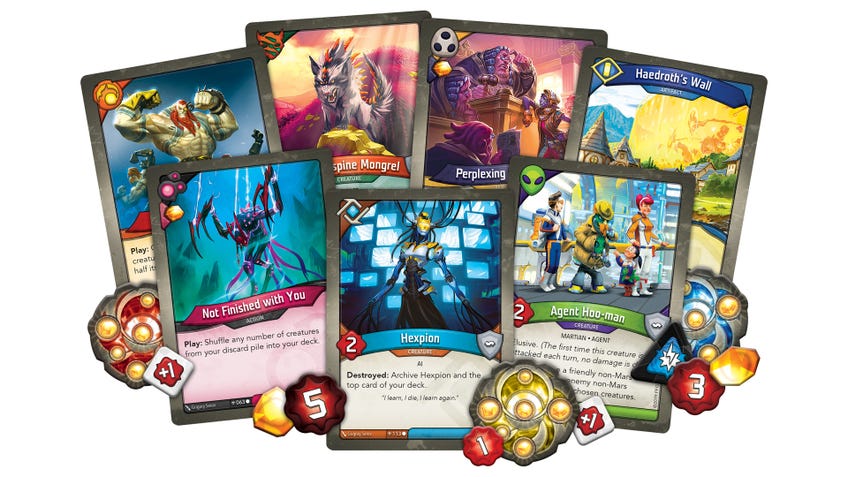 Keyforge's two-player Age of Ascension starter set is currently under £10 on Chaos Cards, letting you get started with the 'unique deck game' on the cheap.
Created by Magic: The Gathering designer Richard Garfield, Keyforge is a head-to-head card battler in which two players compete to collect the precious resource of Æmber and forge keys, using their deck of creatures and abilities to hinder their opponent and aid their own efforts.
Publisher Fantasy Flight Games describes Keyforge as the first 'unique deck game' - each deck is created using an algorithm said to guarantee that no two people in the world have the same set of cards, with billions of potential combinations. Unlike trading card games such as MTG, the decks are fixed - meaning they can't be customised by adding or removing cards - and customised with a similarly procedurally-generated title and artwork on the back of the cards.
Released in early 2019, Age of Ascension is Keyforge's second set, adding more than 200 new cards to the pool along with additional gameplay mechanics and keywords.
The two-player starter set includes the rules for learning how to play Keyforge, along with the necessary tokens to track Æmber, status effects, chains and forged keys. The standalone set includes two archon decks - the unique decks that can also be purchased separately and battled against decks from the game's other expansions.
The Keyforge: Age of Ascension starter set can currently be picked up for £9.95 on UK online retailer Chaos Cards, almost 60% off its RRP of £23.99. It's not clear how long the deal will last.