Magic: The Gathering creator's 'unique deck game' Keyforge passes 2 million decks sold
Latest figure registered on Master Vault app.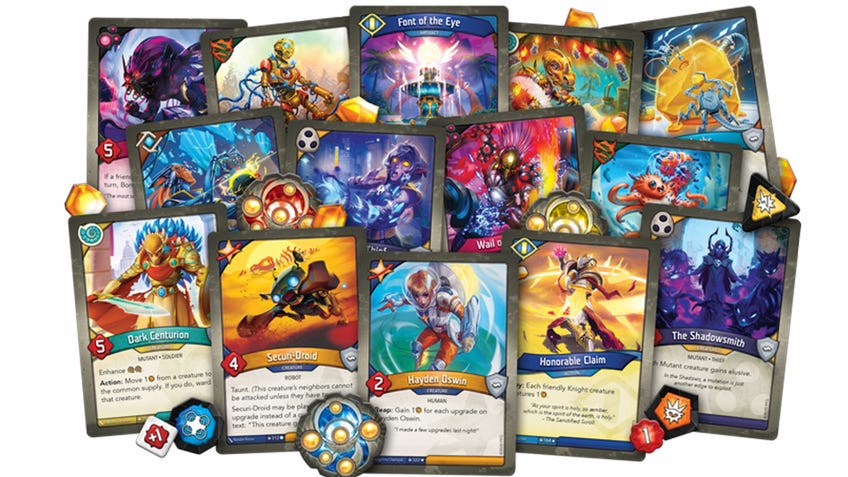 Keyforge, the 'unique deck game' created by Magic: The Gathering designer Richard Garfield, has now sold more than two million decks.
The latest stat comes via publisher Fantasy Flight Games' Organized Play Twitter account, which announced that two million Keyforge decks had been registered on the card game's Master Vault app. (At the time of writing, the exact figure stands at 2,001,449.)
The app, which allows players to track a deck's win/loss performance, participate in official tournaments and trade decks with other players, passed 1.5 million decks registered last December, following Keyforge's initial launch in the autumn of 2018. That suggests that approximately 500,000 further decks have been registered during 2020 so far - a quarter of the game's total deck count.
#Keyforge
Two million decks registered! Congratulations players, now on to Three million! pic.twitter.com/zGRxUkSYaF

— FFG Organized Play (@FFGOP) August 26, 2020
However, registering a deck via the Master Vault app is not required to play the game - meaning that the actual number of decks sold may be a good deal higher than the two million figure.
Keyforge was dubbed the first 'unique deck game' by Fantasy Flight as the result of its novel way of creating decks using an algorithm, with no two decks said to be identical. According to the publisher, there are billions of potential deck combinations possible, each with an algorithmically-created name and artwork. Unlike collectible card games such as Magic: The Gathering, the decks cannot be customised or altered - players must use the cards in their deck as-is.
The game sees players playing cards from their hand to craft three keys before their opponent. Each deck is made up of cards from three 'houses', with players able to play as many cards they like from a single house on their turn. As more expansions have been released for the game, certain houses have been cycled out of newer decks and replaced with brand new factions, which can be used against older decks.
Keyforge's latest expansion is Mass Mutation, which added mutated versions of older cards and reintroduced house Sanctum into the mix. Four free print-and-play starter decks for the set were released earlier this summer to allow players to play the game during the COVID-19 pandemic.
The card game's next set will be Dark Tidings, due for release in early 2021. The expansion adds new gameplay elements around changing tides and replaces original Keyforge house Dis with newcomer Unfathomable. Dark Tidings will also see the debut of 'Evil Twin' decks - copies of existing decks with twisted versions of the cards.