This Pokémon TCG: Sword & Shield Ultra-Premium Collection is now under $100
Get a Charizard V, Charizard VMAX, and Charizard VSTAR, 16 Pokémon TCG booster packs and much more.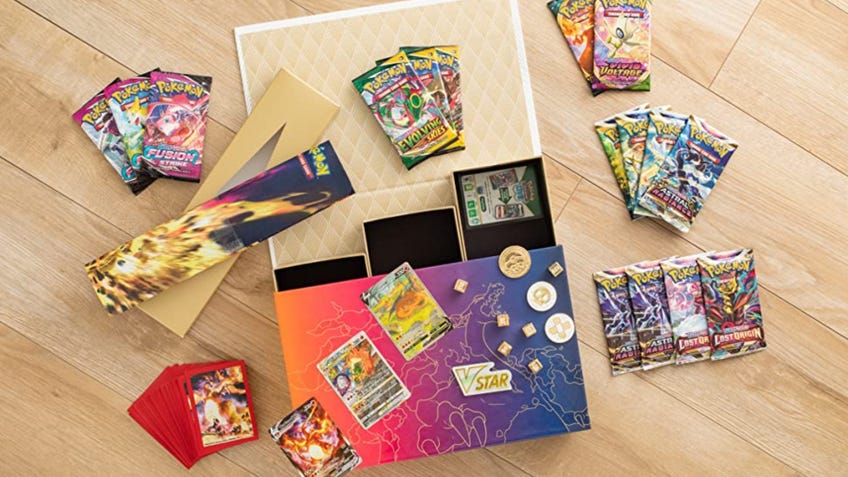 The First Edition 1999 Charizard card was, and still is, one of the most sought after Pokemon TCG cards for collectors and fans. I remember the sheer anticipation of opening a pack of Pokemon cards back in the nineties, pleading with the Pokemon gods for that shiny Charizard card. It was like opening up a Wonka Bar for a Golden Ticket in Charlie and the Chocolate Factory.
Alas, like many of us, owning that holo Charizard card was never part of my path in life, and the amount of money that one of these rare and expensive Pokemon cards sells for these days, means I will probably never have the funds to own one.
If you can relate, and you simply want to say you own 'a' Charizard card, then there are still new and awesome-looking Charizard cards that you can collect and add to your deck. And this Pokemon TCG: Sword and Shield Ultra Premium Collection - Charizard offers excellent value for money, because it comes with not one, not two, but three etched foil promo Charizard cards! Even better, it's currently on sale for under $100 (was $120).
US
UK
The Pokemon TCG: Sword and Shield Ultra Premium Collection - Charizard was released on 28th October 2022 and the promo Charizard Pokemon cards are already worth some money, so it's well worth making sure you protect your cards in protectors to ensure their value grows in years to come, plus any other rare Pokemon cards you may find inside the 16 included booster packs from the Sword & Shield collection.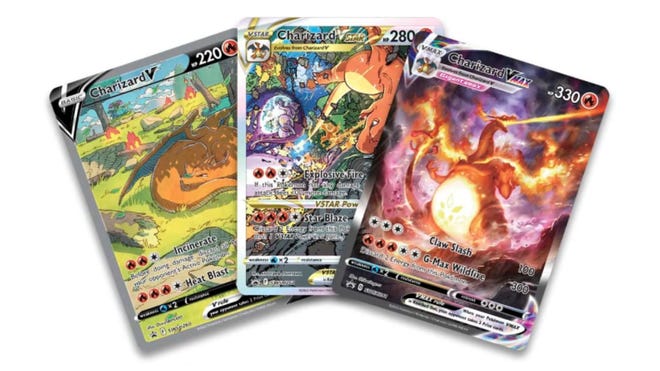 Also included are all the below essentials for an up-to-date Pokemon battle:
1 metal coin featuring Gigantamax Charizard
6 metal damage-counter dice
2 metal condition markers
1 acrylic VSTAR marker
65 Gigantamax Charizard-themed card sleeves
These extra gubbins are a step up from the ones included in regular Elite Trainer Boxes that usually come with plastic dice, cardboard condition markers and damage counters.
---
Whew...who turned the heat up in here? If you need to cool off from all this talk about Charizard cards, be sure to check out our deals hub for more offers on TCGs, board games and more. There's also a new Pokemon TCG series coming to town, so make sure to read up all about the Scarlet and Violet cards right here at Dicebreaker.