Pick up Warhammer 40,000 RPGs Black Crusade and Only War with all their expansions for under £14
Includes core rulebooks and all supplements for Warhammer 40,000 Roleplay's Chaos and Imperial Guard titles.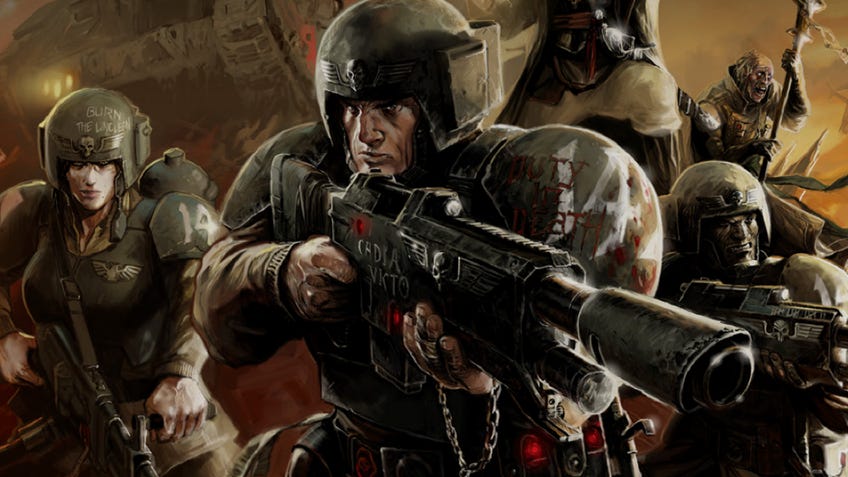 Grab Warhammer 40,000 RPGs Black Crusade and Only War, along with all their available supplements and sourcebooks, for a song in the latest Humble Bundle tabletop offering.
The RPG book bundle includes the core rulebooks for the two standalone iterations of Warhammer 40,000 Roleplay, the tabletop RPG set in the grimdark universe of the miniatures game originally published by Fantasy Flight and brought to an end in 2016.
75p or more will get you the core rules for Black Crusade, which allows players to become agents of Chaos - either an imposing Chaos Space Marine or human Servant of Chaos, pledging themselves to the Dark Gods.
Meanwhile, stepping your pay-what-you-want price up to £11.29 or more will unlock the Only War core rulebook. Focused on the Imperial Guard, the book puts players in the boots of soldiers in the Imperial Armed Forces, fighting across the galaxy in the name of the God-Emperor.
All of the available supplements, sourcebooks and releases for both standalone titles are split across the tiers of the Humble Bundle. Paying £13.55 or more will get you everything, including digital copies of all of the adventures, books and game master kits released for both Black Crusade and Only War.
Both games are built on the Warhammer 40,000 Roleplay system first used in 2008's Dark Heresy, with 2012's Only War being the last standalone entry in the series. Gameplay involves players rolling 10-sided dice, hoping to roll under a given trait such as weapon skill, strength, toughness or will power. The characteristics range from 1 to 100, with players rolling either a single d10 or two together as a percentile die to determine their success.
The bundle of ebooks is said to worth an estimated $291 when purchased separately. As with all Humble Bundles, a buyer-selected portion of the money will go toward charity. In this case, Heifer International, an organisation working to end world hunger and poverty by supporting local farmers and communities.
The Warhammer 40,000 Black Crusade and Only War RPG book Humble Bundle will be available until December 23rd.