Tiny Towns named Game of the Year and Best Board Game at 2020 Origins Awards
Following cancellation of convention and awards show over the summer.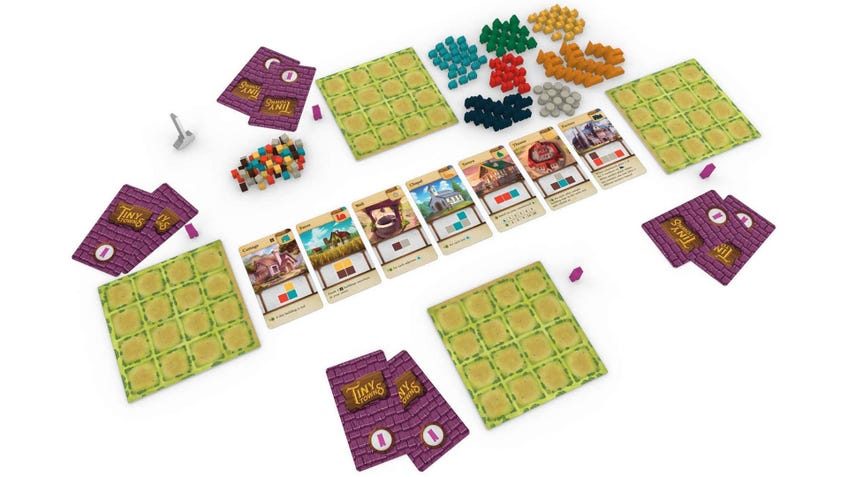 Compact city-building board game Tiny Towns has been named Game of the Year at this year's Origins Awards.
The Origins Awards are an annual set of awards bestowed upon tabletop titles by the Academy of Adventure Gaming Arts & Design as part of the US Origins Game Fair convention typically held each year in June by the Game Manufacturers Association (GAMA).
The jury-voted awards have been running since 1975, with past recipients including big-name games such as Root, Gloomhaven, Magic: The Gathering, Catan, Dead of Winter, Codenames and Scythe.
This year's nominations were originally announced in March - with notable nominees including RPGs Pathfinder 2E, Star Crossed and Alien: The RPG - before disrupted by the delay of Origins Game Fair as the result of the COVID-19 pandemic. Origins Online, the virtual convention planned to replace Origins Game Fair over the summer, was later cancelled due to GAMA's lack of a statement in response to the Black Lives Matter movement in the wake of the recent killings of George Floyd and Breonna Taylor, as well as opposition to continued police brutality and systemic racism.
The Origins Awards nominations announced in March were later replaced by a fresh shortlist announced in late September. To make the cut for the 2020 awards, games had to have seen a release between November 2018 and November 2019 - meaning that any releases from this year were not included. The winners were then selected by a 40-strong jury.
The big Origins Award winner this year was Tiny Towns, which was named both Game of the Year and Best Board Game. The easy-to-learn game sees players placing cubes in specific arrangements in a small four-by-four grid to construct buildings, earning them points based on their layout and the buildings they include.
The game bested 2018's winner of the lauded Kennerspiel des Jahres - German's 'Expert Game of the Year' prize - Quacks of Quedlinburg in the GOTY category, as well as Call to Adventure, Dungeonology: The Expedition and My First Castle Panic. However, Quacks of Quedlinburg did take home the Best Family Game award.
Other Best Board Game nominees included Parks, Ishtar: Gardens of Babylon - the latest game from Spiel des Jahres-winning Kingdomino creator Bruno Cathala - Ecos: The First Continent and Shobu, one of my favourite games of last year, among others.
Dicebreaker favourite Point Salad was awarded Best Card Game ahead of the likes of the acclaimed Air, Land & Sea, Lockup: A Roll Player Tale and latest Epic Spell Wars of the Battle Wizards entry Annihilageddon.
2020's Origins Award for Best Roleplaying Game saw strong competition from games including Alien: The Roleplaying Game - named Best Game at the RPG-focused ENnie Awards earlier this year - alongside the latest edition of seminal RPG Cyberpunk Red, the second edition of fantasy RPG Pathfinder and Alex Roberts' applauded Jenga-powered game of hidden feeling, Star Crossed. Coming out on top was Teens in Space, a sci-fi spin-off from rules-light RPG Kids on Bikes.
In slightly curious circumstances, Marvel HeroClix: Avengers Black Panther and the Illuminati Booster Brick was named Best Collectible Game by virtue of being the only nomination in the category, while Best Historical Miniatures Game was won by Bolt Action: Campaign D-Day Overlord - with the only other shortlisted game being another Bolt Action release from publisher Osprey Games, Bolt Action: Korea. Best Historical Game, meanwhile, was picked up by Pandemic: Fall of Rome, a spin-off from the hit co-op series.
The Best Miniatures Game category equally raised some eyebrows, with its inclusion of both miniatures wargames such as Gaslands: Refuelled and Malifaux: Third Edition and board games featuring miniatures, including Power Rangers: Heroes of the Grid and Warhammer: Age of Sigmar spin-off Warcry, which claimed the top prize.
Inducted into the Academy of Adventure Gaming Arts & Design Hall of Fame were designers Wolfgang Kramer and Reinhold Wittig, along with influential roll-and-write game Yahtzee and website BoardGameGeek. Quacks of Quedlinburg, The Mind and Wavelength designer Wolfgang Warsch was named as 2020's Rising Star.