Swedish doom metal RPG Mörk Borg triumphs at 2020 ENnie Awards as Alien RPG named Best Game
Studio behind both games, Free League, also scoops fan-favourite publisher prize.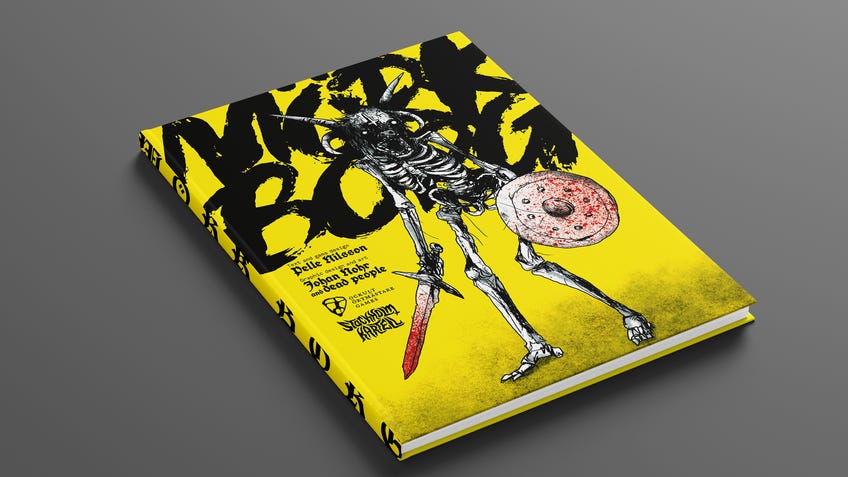 This year's ENnie Awards winners have been announced, naming the best tabletop RPGs of the last 12 months as voted for by the public.
Among the biggest winners was Mörk Borg, the dark RPG inspired by Swedish doom metal music. The game received awards in all four categories it was nominated in, picking up the top gold prize for Product of the Year, Best Writing and Best Layout and Design, along with silver in Best Game.
The RPG named as Best Game of the year was Alien: The Roleplaying Game. Based on the seminal sci-fi horror series, the RPG is set after the events of Aliens and features the option to play in either cinematic mode for a more movie-like experience or a traditional roleplaying campaign. Reviewing the game for Dicebreaker last year, Richard Jansen-Parkes found that "Swedish publisher Free League has been able to craft a tabletop roleplaying game that can conjure up the same pitch-dark dread as the film from the safety of your kitchen table".
Both Mörk Borg and Alien: The RPG were published by Free League, which cemented its triumph at this year's awards by being named fan-favourite publisher.
Hot on Mörk Borg's tail was solo RPG Thousand Year Old Vampire, which scooped three awards. Designer Tim Hutchings' journaling game follows a human as they transform into a vampire, dealing with their loss of memory and loneliness as they record memories in a diary. The game, which is available in both digital and physical editions, collected the top award for Best Rules and Best Production Values, as well as the runner-up silver for Product of the Year.
Collecting two awards apiece were Call of Cthulhu supplement Berlin the Wicked City, claiming golds in Best Setting and Best Cover Art; A Pound of Flesh, named Best Adventure and second-best layout and design; the first volume of Trilemma Adventures, which took silver in Best Adventure and gold in Best Cartography; and The Monsters Know What They're Doing, which placed second in Best Writing and first in Best Online Content.
Joining Alien as an acclaimed adaptation of a classic movie was the RPG adventure game based on Jim Henson's Labyrinth, which picked up the silver prize for Best Cartography and was named Best Family Game of the year.
Despite a number of nominations each, beginner-friendly RPG Quest and tween friendship game BFF! Best Friends Forever both walked away empty-handed, while Zombie World - shortlisted in four categories, including Best Game and Product of the Year - only received a silver in Best Rules.
The full list of 2020 ENnie Award winners - which also include prizes for accessories, supplements and roleplaying-adjacent content such as podcasts - was announced via the ENnie Awards Twitter during the online awards show, replacing the physical ceremony usually held around Gen Con.