Warhammer Humble Bundle includes Blood Bowl 2, Deathwatch, Battlefleet Gothic and more on PC for £10
Spanning tabletop adaptations and other spin-offs.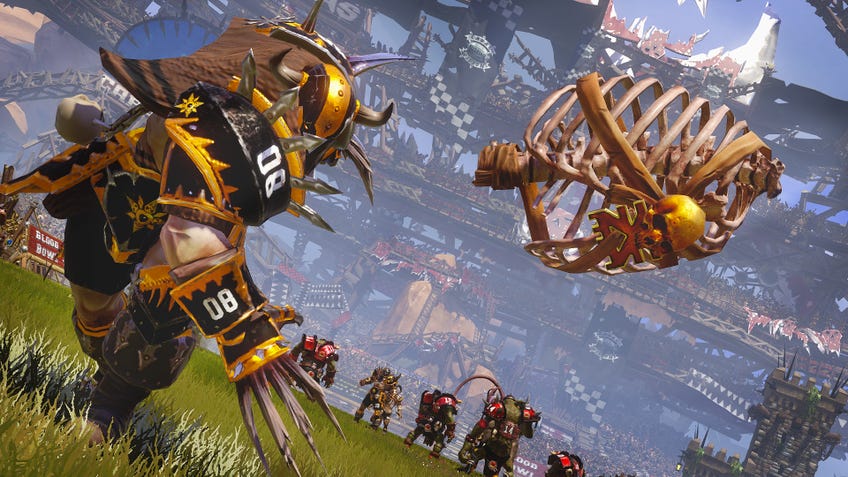 Pick up a bevy of Warhammer PC games for just over a tenner as part of the latest Humble Bundle deal.
The Warhammer Humble Bundle includes both direct adaptations of tabletop games set in the grimdark universe of Warhammer 40,000 and its fantasy counterpart, as well as original video games inspired by the sci-fi setting and some spin-offs from the core franchise.
A single pound will get you the Game of the Year Edition of celebrated real-time strategy game Warhammer 40,000: Dawn of War, Left 4 Dead-ish first-person co-op game Warhammer: End Times - Vermintide, Legacy of Dorn: Herald of Oblivion - based on the eponymous Black Library gamebook - and Warhammer 40,000: Kill Team, a top-down co-op game from 2011 that isn't related to the more recent miniatures skirmish game of the same name.
Paying more than the average - currently sat at just over £6 - will add the second Dawn of War game to your PC game library, along with a trio of tabletop adaptations: space combat strategy game Battlefleet Gothic: Armada, turn-based battler Warhammer 40,000: Sanctus Reach and the Enhanced Edition of dungeon-crawler Warhammer 40,000: Deathwatch.
The top tier, unlocked for £10.50 or more, adds the complete collection for visceral third-person shooter Warhammer 40,000: Space Marine, including all of its DLC, alongside Dawn of War III - the latest release in the RTS series - and Blood Bowl 2: Legendary Edition, the digital version of the beloved fantasy football spin-off from Warhammer. You'll also get a free month of Humble's subscription service if you haven't used it before.
Your pay-what-you-want price will be split between Humble, the games' publishers, video game charity Special Effect and a charity of your choice (or randomly selected on your behalf). As usual, you can adjust what proportion of your money goes where.
The Warhammer Humble Bundle is live for another week, ending on Tuesday July 28th.