Dawn of War, Vermintide and other Warhammer video games are up to 95% off on PC
Slaaneshing prices.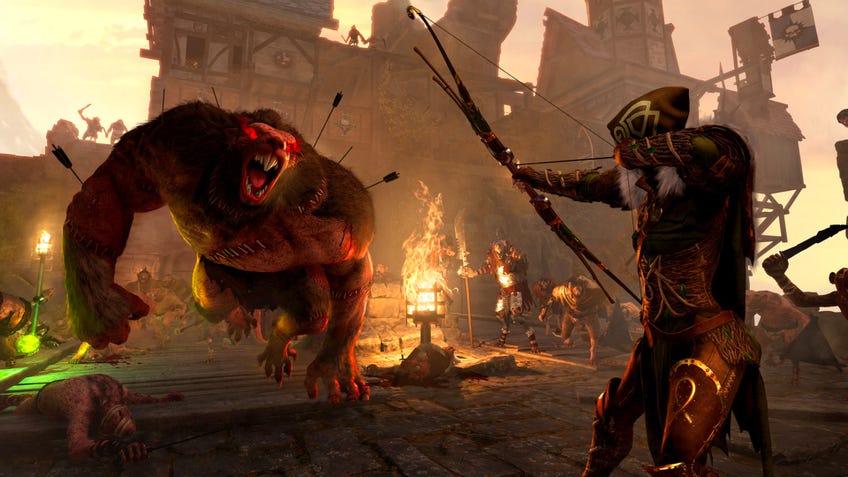 Dozens of PC games based in the fantasy world of Warhammer: Age of Sigmar and Warhammer 40,000's grimdark future are currently on sale, knocking up to 95% off their usual price.
Humble Bundle's promotion to mark Games Workshop's Warhammer Skulls event includes some of the more popular Warhammer titles to have graced PC, ranging from first-person shooter spin-offs and real-time strategy games to faithful adaptations of the publisher's tabletop titles.
Among the highlights are all three Dawn of War games, the series of real-time Warhammer 40,000 strategy games that see players controlling one of the sci-fi universe's factions in a battle to take and control various objective points around the map using their units. The three core Dawn of War games, as well as several of their expansions - which can be nabbed in Master Collections for the first two titles - are all available for 75% off.
Joining them are both games in the Vermintide franchise. Set in the fantasy towns and fields of Age of Sigmar, Vermintide plays like a Warhammer spin on co-op classic Left 4 Dead, as players team up and use their abilities to carve through crowds of Skaven and Chaos in first-person.
The original Vermintide - End Times is 75% off at £5.74, with its sequel only a few pennies more at £5.94. The two games' collector's editions are similarly discounted to around £8, with their various DLC expansions half-price during the sale.
The Warhammer: Age of Sigmar additions to the Total War series of sweeping historical strategy games - which are called Total War: Warhammer, rather than the catchy Total Warhammer you'd maybe expect - are also in the sale. You can pick up the first game for under a tenner, while its more recent sequel is 66% off at £13.59. Like the other Warhammer games, a number of Total War: Warhammer DLC packs and expansions can also be grabbed for a significant saving, including additional factions such as the Wood Elves, Tomb Kings and Chaos Warriors.
The online version of Warhammer Underworlds, the skirmish board game starring a number of factions from the Mortal Realms, sees the biggest discount, down 95% to under 40p.
It's one of a number of more direct adaptations from Games Workshop's tabletop releases including the digital version of chaotic Warhammer fantasy football spin-off Blood Bowl, Warhammer 40,000 dungeon-crawler Space Hulk, fantasy adventure Warhammer Quest and even non-Warhammer Games Workshop board games Fury of Dracula and Talisman.
Head over to the Humble Bundle store to see the full sale and pick up the discounted Games Workshop PC games in the Warhammer Skulls sale while it lasts.