Marvel Champions, 7 Wonders 2E and more board games discounted in Zatu's January sale
Alongside Arkham Horror LCG, Harry Potter: Hogwarts Battle and Dune.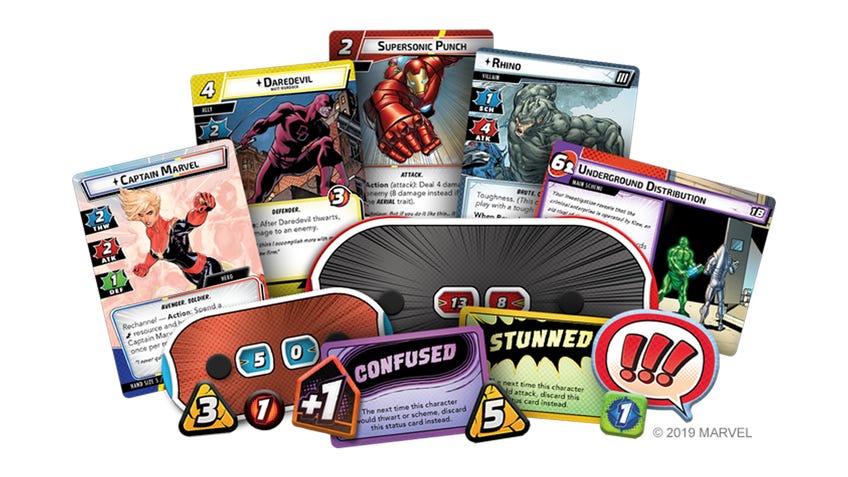 Get a selection of board games at a discounted price in UK online retailer Zatu's January sale, including titles such as Marvel Champions: The Card Game, the Arkham Horror LCG, Harry Potter: Hogwarts Battle and 7 Wonders: Second Edition.
Usually priced at £59.99, Marvel Champions: The Card Game is currently available for £37.99 ($51). A co-op board game for one to four players released last year, Marvel Champions sees players teaming up against a series of classic comic villains to stop their dastardly schemes. Featuring beloved characters such as Spider-Man, Black Panther, Captain Marvel and She-Hulk, Marvel Champions is a challenging experience that forces its players to think carefully about every turn.
Released just last year, 7 Wonders: Second Edition is discounted to £29.99 ($40), down from its usual retail price of £43.99. A new version of the popular beginner board game, 7 Wonders 2E features brand new artwork, a more accessible rulebook and revised versions of some of the original's mechanics. Two to seven players draft cards and develop their civilisation in an attempt to become the greatest ruler of the ancient world.
Harry Potter: Hogwarts Battle is available for just £34.99 ($47) - rather than its usual asking price of £49.99 - providing two to four players with a co-op experience based on the hit movie franchise. A deckbuilding game that has players becoming four possible characters - Harry Potter, Hermoine Granger, Ron Weasley or Neville Longbottom - Hogwarts Battle sees players progress through each year of wizarding school and face a rogues' gallery of magical villains.
Other board games featured in the Zatu January sale include horror title Arkham Horror: The Card Game - currently priced at £25.99 ($35) - the 2019 remake of the Dune board game, available for £28.79 ($39), and industry-building board game Brass Birmingham, priced at £44.99 ($61).
The Zatu January sale also features a number of flash deals - temporary discounts on a variety of board games - which can be found on the main sales page.