Get Call of Cthulhu and Runequest TRPG starter sets for less than a dollar each
Discount doom.
Players and game masters can get their hands on starter sets for Call of Cthulhu and the Runequest tabletop roleplaying game for less than a dollar each.
Digital versions of both tabletop RPGs are currently available to be purchased for $0.99 each, in a limited offer that will end by Thursday. Getting either starter set will enable players and GMs to start their adventures in the universe of Call of Cthulhu or the Runequest TRPG, giving them everything they need to experience either roleplaying game for the very first time.
The Call of Cthulhu Starter Set features condensed versions of the RPG's basic books, alongside pre-generated character sheets - enabling a speedy start - a selection of maps and a collection of scenarios, including a solo RPG adventure, for GMs to run. There are three scenarios designed for three, four or five players featured in the starter set, including one wherein players investigate the disappearance of a professor before discovering something much darker at play.
Matt, Wheels and Liv play Call of Chthulhu with its creator live at EGX 2022.
Featured within the Runequest TRPG Starter Set is a selection of shortened versions of the game's rulebooks to get players and GMs started. On top of that are 12 pre-generated characters to allow players to get started with their games as soon as possible, alongside a trio of adventures for GMs to run out of the 'box'. The adventures found within the starter set include a scenario about a series of mysterious fires and a complex of tunnels containing some threatening trolls.
Call of Cthulhu is a horror tabletop RPG inspired by the Cthulhu Mythos in which players become ordinary people pulled into a world of terror. Within the coming of the Old Ones - godlike beings who threaten humanity itself - imminent, players will need to investigate the strange goings-on happening around them in order to find the answers they need to stop their arrival. The horror roleplaying game challenges players to look for solutions besides direct combat, with the group playing characters who are vastly outmatched by their enemies.
Taking place in the fictional world of Glorantha, Runequest is a fantasy TRPG that has players becoming a team of heroes defined by their culture, religion and beliefs, rather than any character classes. Players form their characters by either selecting a pre-generated character or by choosing from a selection of in-universe cultures, ideas and elements to help construct them. Throughout the roleplaying game, players will be able to further develop their characters through what they wear, what they wield and what they do: making for an organic storytelling experience.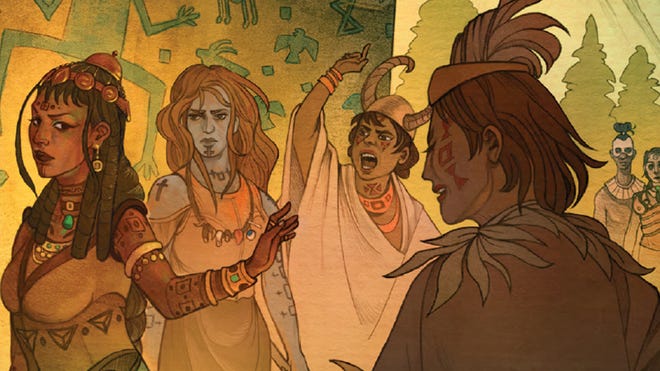 Call of Cthulhu and Runequest are both published by Chaosium, the company also responsible for releasing roleplaying games such as the Arthur Pendragon RPG series and the 7th Sea series.
Both the Call of Cthulhu and Runequest Sets are available to purchase from the DrivethruRPG store for $0.99 (£0.81) each until January 19th (Thursday).