Returning Call of Cthulhu RPG supplement will challenge even experienced players
Prepare for Nameless Horrors.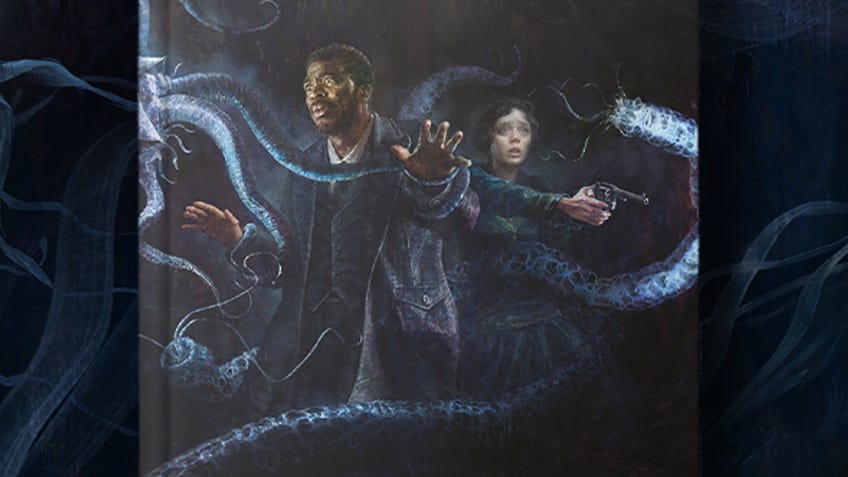 A supplement for tabletop roleplaying game Call of Cthulhu promises to challenge even the most experienced of players.
Nameless Horrors is a reprint of a previously released supplement for tabletop RPG Call of Cthulhu, with the original version having gone out of print since it was published for the game's most recent edition. The supplement takes place in the dark world of Call of Cthulhu - which is inspired by the Cthulhu Mythos - that sees players becoming investigators searching for answers to strange and terrifying events happening around them.
Featuring six different scenarios that take place across both time and space – from Paris in the 1890s to 1920s New England – Nameless Horrors seeks to show players aspects of the Cthulhu Mythos they may have never seen before. Besides its scenarios, the standout aspect of the horror RPG supplement is its rogue's gallery of monsters and entities featured therein. Enemies in Call of Cthulhu are rarely to be scoffed at, with players often encouraged to flee rather than fight, but the creatures found in Nameless Horrors are especially dangerous.
Matt, Wheels and Liv play Call of Cthulhu with Mike Mason at EGX.
The supplement contains entities that most investigating parties would not have encountered before, will "keep even the most seasoned of investigators on their toes."
Game masters will be able to either plan for the scenarios in Nameless Horrors to be a one-shot tabletop roleplaying experience, or can integrate them into an overarching campaign. Otherwise, the supplement's scenarios can be employed as inspiration for the GM's own unique adventures within the world of Call of Cthulhu.
Nameless Horrors was co-created by Paul Fricker, Matt Sanderson and Scott Dorward, as well as other Call of Cthulhu writers and designers. The supplement will be published by Chaosium, the studio responsible for releasing Call of Cthulhu: 7th Edition as well as the Arthur Pendragon fantasy RPG and the Runequest RPG.
Wheels explains why Call of Cthulhu is more popular in Japan than Dungeons & Dragons.
Call of Cthulhu is a horror tabletop roleplaying game that has players becoming ordinary characters in a world threatened by the arrival of vast and uncaring entities. Though player characters may have skills and knowledge, they are not equipped to deal with the dangers posed by the cults, strange organisations and monsters they may encounter within the RPG. Rather than fight creatures who threaten the world, players are advised to gather clues and items they need to stop their plans.
Nameless Horrors is set to be released on 8th March, with a retail price yet to be confirmed.