Yu-Gi-Oh! TCG's next expansion is bringing back characters from the TV show
Believe in the heart of the cards… again.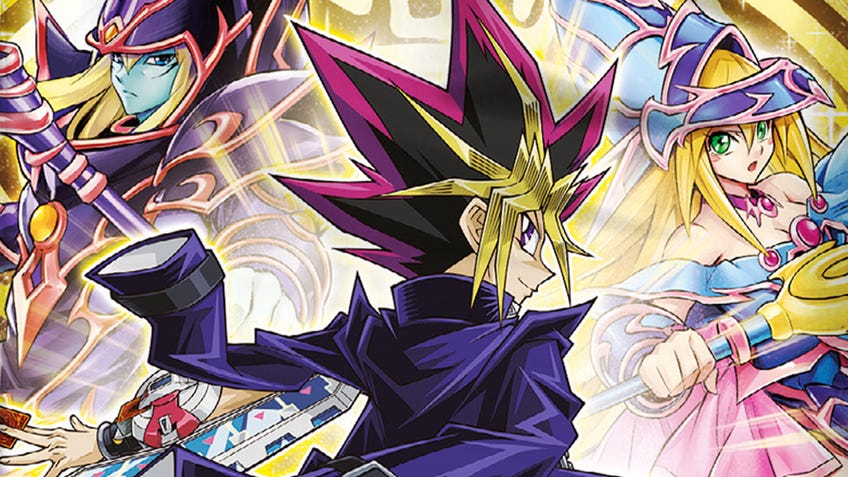 The latest expansion pack for the Yu-Gi-Oh! trading card game sees the return of classic characters from the animated TV show, including protagonist Yugi.
Legendary Duelists: Magical Hero will feature key characters from the show's first five series alongside iconic cards such as Dark Magician and Dark Magician Girl. When these two monsters are played together they can combine into a new single card called The Dark Magicians; the game's very first fusion monster that has 2800 ATK and the ability to draw additional cards, with the chance to use those cards instantly if they are quick-play, spells or traps.
This newest pack will also introduce elemental hero cards to the game as well as a brand new quick-play spell, equip card and trap card. Additional pendulum, synchro and xyz monster cards can be found in the expansion, alongside a selection of support cards; bringing the total of new cards up to 56.
Based on the 90's manga and anime Yu-Gi-Oh! is a collectible card game similar to Pokémon TCG and Magic: The Gathering wherein two players attempt to wittle their opponents' life points down by discarding and summoning new monsters.
The Legendary Duelists: Magical Hero expansion will release January 17th and will be followed-up by Yu-Gi-Oh! The Dark Side of Dimensions Movie Pack Secret Edition on January 24th, an expansion based on the latest Yu-Gi-Oh! feature film and containing 57 cards - including a rare version of the classic Blue-Eyes White Dragon.
The final expansion released this month will be Ignition Assault, a set of cards based on the spin-off anime series Yu-Gi-Oh! Vrains that will be available from January 31st with previews held in official tournament stores on January 25th and 26th.