Start playing RPGs Tales from the Loop and Symbaroum for under £1
Free League Publishing Humble Bundle offers starter sets for a steal.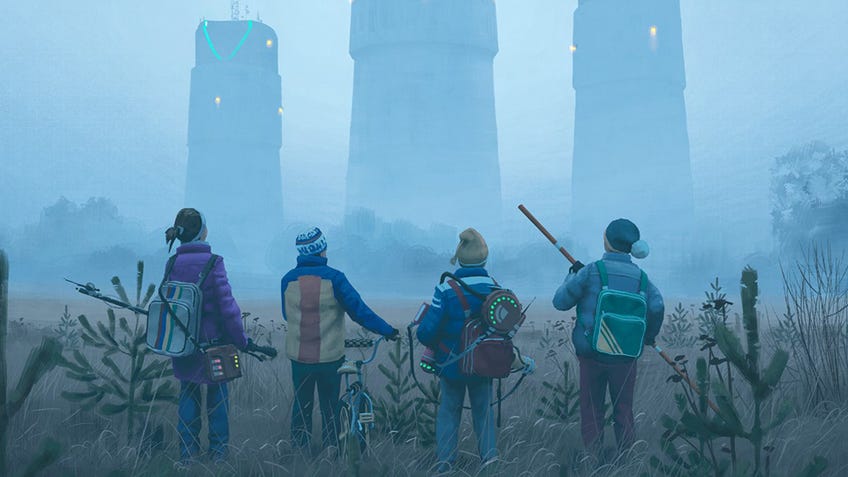 If you're looking to take your first steps into the retro-futuristic sci-fi universe of Tales from the Loop and dark fantasy world of Symbaroum, you can currently get started with both tabletop RPGs for under a pound.
A Humble Bundle collecting the celebrated roleplaying games from Swedish outfit Free League Publishing is offering Tales from the Loop's Starter Set and Symbaroum's similarly beginner-friendly Treasure Hunts in Davokar set for just 70p.
The starter sets provide the basic rules for players and GMs to start playing using pre-generated characters and introductory adventures, with the tier also including the Yndaros - the Darkest Star adventure for Symbaroum groups looking to continue their journey in a new setting.
Increasing your pay-what-you-want price to just over £7 will add the three-part Out of Time campaign for Tales from the Loop, as well as Symbaroum's Advanced Player Guide for extra character creation options and both Thistle Hold - Wrath of the Warden and Karvosti - The Witch Hammer, which precede Yndaros - the Darkest Star in the lengthy Chronicle of the Throne of Thorns adventure path for Symbaroum.
£12.74 and over will unlock the full core rulebooks for Tales from the Loop and Symbaroum, plus the rulebook for Tales from the Loop sequel Things from the Flood - which moves things forward to a darker alternative 1990s - and Symbaroum's Game Master's Guide and Monster Codex bestiary.
For that price, you'll also pick up the fourth Throne of Thorns episode, Symbar - Mother of Darkness, for Symbaroum and Tales from the Loop's Our Friends the Machines sourcebook, which includes extra adventures and guidance on creating a custom setting for the RPG.
The entire collection is said to be worth around $237 (£167), with the books available as digital DRM-free PDFs. The Free League Publishing Humble Bundle will be on offer until June 14th.
As with all Humble Bundles, a portion of proceeds will go to charity - the buyer can select a specific organisation and adjust the sliders under "Choose where your money goes" to determine the split between Free League, Humble and the charity of their choosing, with the default vastly favouring the publisher and store.