Infinity sports game spin-off Aristeia is getting a four-player expansion, Prime Time
Following demand from fans.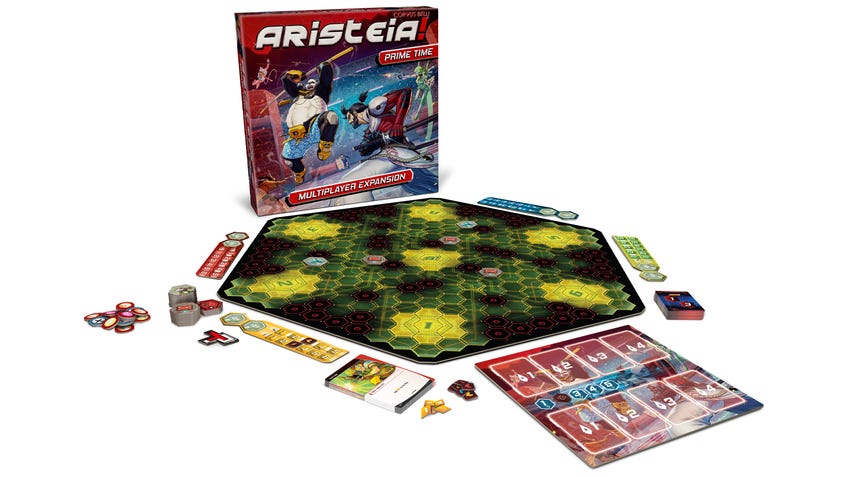 Aristeia, the sports board game set in the world of sci-fi miniatures game Infinity, is getting a new expansion that doubles its player count.
Released in 2017, Aristeia portrays the combat arena bloodsport of the Infinity universe. Players take the role of team managers controlling squads in the HexaDome, battling to earn points and defeat their rivals. A completely standalone experience from the miniatures game, the board game uses a different set of rules from the original skirmish wargame, playing out on a hex grid and using tactics cards.
Aristeia's next expansion, Prime Time, will increase the base game's two-person player count to support up to four players. All of the players will share a new running order board, where cards are placed to determine the initiative and actions of the round, with the gameplay experience said to be largely the same despite the extra players.
The expansion will also include "new add-ons and content that will improve the gaming experience", along with new action cards, a new game mat and mini control panels - the boards that players use to manage their teams' movement and action points.
According to publisher Corvus Belli, increasing Aristeia's player count has been one of the most popular requests among the game's fans since the game was released.
Prime Time will be compatible with both the core box and all of Aristeia's previously-released expansions, which include a number of additional teams from across the series' factions.
Aristeia: Prime Time will be released this November. A price is yet to be announced.
An upcoming fourth edition of Infinity, N4, was recently announced for release in September, following the miniatures game's beginner-friendly spin-off CodeOne launching earlier this year.