Catan's 25th Anniversary Edition is out next month, includes expansions and accessories
Bundles original game, 5-6 player extension, Helpers scenario and accessories.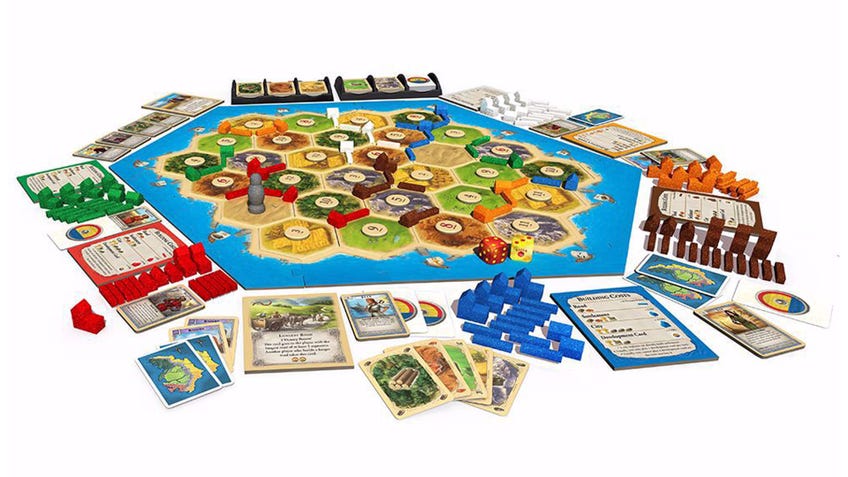 Board game classic Catan turns a quarter-of-a-century old this year, and it's marking the milestone with a 25th Anniversary Edition releasing in November.
Catan 25th Anniversary Edition includes Klaus Teuber's original four-player game - known as The Settlers of Catan when it debuted in 1995 - along with its 5-6 Player Extension, which does exactly what you'd expect, and Helpers of Catan, a scenario first released in 2013 that introduces helpful companions with unique abilities that the players can use. (The characters first appeared as AI opponents in the 2013 PC version of Catan.)
As well as the gameplay expansions, the upcoming board game upgrades Catan's wooden roads, settlements and cities to iridescent pieces, with its dice getting the same colourful treatment new to the 25th Anniversary Edition.
Finally, the set includes sorting trays to help organise the game's resource cards, which can also be protected using the 180 clear Catan-branded sleeves in the box.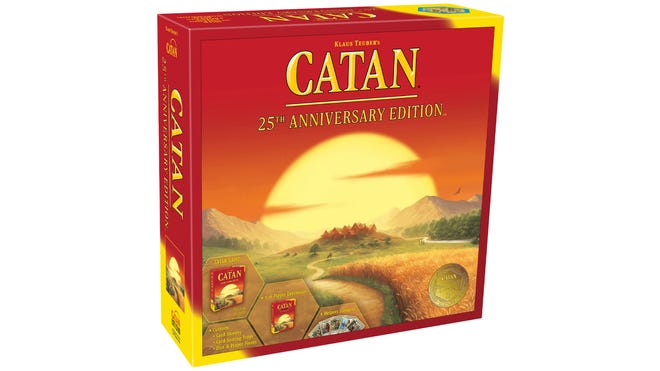 Catan's 25th Anniversary Edition will set you back $80 when it sees a release on November 6th, having already been released in the game's native German earlier this year. The base game's RRP is $55, with the 5-6 Player Extension priced at $30 and a pack of 60 card sleeves selling for around $2.99, so it is cheaper than buying the lot separately if you somehow don't own the original game already.
Catan previously saw a 15th anniversary edition released in 2010 that replaced all of the game's cardboard components - including its hex tiles and number tokens - with thick wooden pieces. That set also included the 5-6 Player Extension and came in a compartmentalised box.
For its 10th anniversary in 2005, the game received a limited-edition 3D Collector's Edition that featured Settlers of Catan and expansion Cities and Knights. The pricey set included hand-painted resin tiles with three-dimensional terrain, along with hand-painted settlements, cities, and roads from the base game and knights and city walls from the expansion. The whole thing was packed in a hardwood case lined with felt and with separate slots for each hex.
While only 5,000 copies of the Collector's Edition were made, making it tough to find and expensive to acquire today, it's hard not see this year's celebration of its 25th anniversary by bundling together previous releases as perhaps a little underwhelming compared. Either way, the 25th Anniversary Edition will be out next month.