Save over £100 on Catan 3D's UK RRP
Raise some settlements, literally.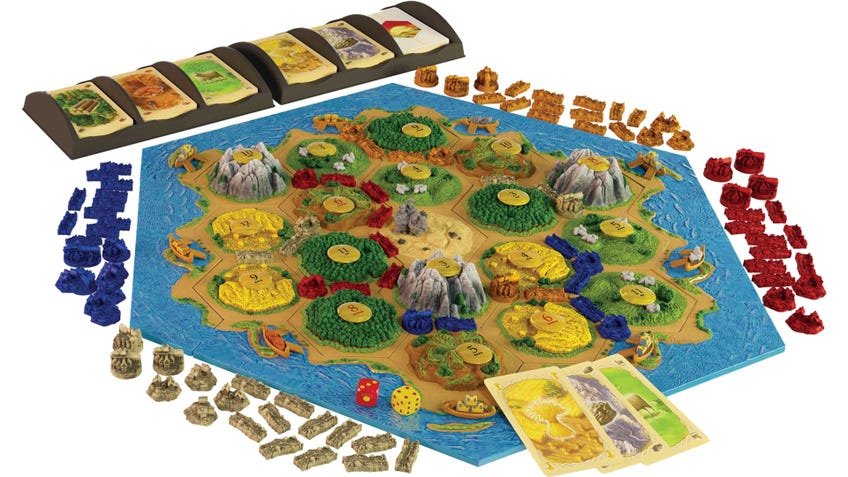 If you're an enjoyer of board games that require equal amounts of strategy and negotiation skills, you've no doubt played or heard of Catan.
First launched in 1995 as The Settlers of Catan, the game takes place on a fictional island which the game is named after. You and a group of up to three others (in standard format, but it can go up to 12 players in other versions), must build settlements, cities and roads to connect them as you settle the island.
Catan is a classic board game now, with five editions released as well as numerous stand-alones and variants. There's even a 3D version, which, we'd like to point out, is currently over £100 off its UK RRP at Zatu Games:
| | |
| --- | --- |
| | Catan rises up from the table for an immersive game experience like no other. |
Yes, Catan has officially joined the third dimension with this edition of the game. This special edition encompasses Settlers of Catan and Cities and Knights for 3-4 players, with each player getting to use a set of hand-painted settlements, cities, metropoli, city walls, knights and roads.
You won't be able to use any expansions you might already have for the base game with the 3D version unfortunately. This is due to the size of the cards and board pieces being different. There have, however, been future expansions for the 3D edition hinted at on the Catan website. So, if you buy this edition while it's cheaper, you can benefit even more when they arrive.
If you've not played before, we have a great guide on how to play Catan that explains how to set up the board, breaks down the rules and explains the scoring. Whether you're a newbie or an expert settler, this 3D version of Catan will be a great way to make the game feel fresh and even more immersive.
If you're already a Catan veteran and want to try a new board game, have a look at our roundup of the latest board game releases in February to help you find something new to play. If you're interested in finding more deals on board games and trading cards plus tech and gaming deals, head on over and follow the Jelly Deals Twitter account where we tweet out all the best deals we spot throughout the week.