Catan VR invites Oculus Quest and Quest 2 owners to trade digital wood
Electric sheep are no longer a dream.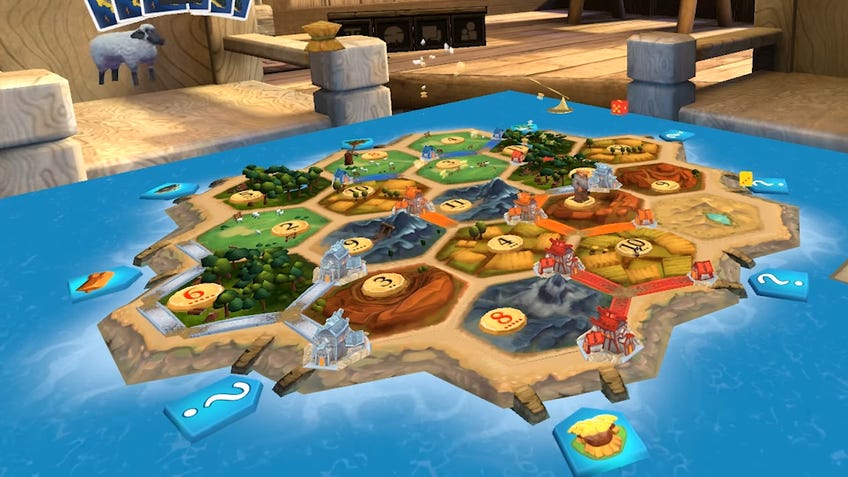 Popular resource trading title Catan extends its reach in the realm of virtual reality by releasing support for both Oculus Quest and Oculus Quest 2 VR headsets, available now.
From the looks of gameplay videos, the adaptation aims to replicate the physical tabletop experience as much as possible, down to simulated chairs and a window to the outdoor world that tracks just how much time your group has spent arguing about the most efficient clay-to-wheat exchange rate.
The developers do take advantage of the video game aspect of Catan VR: the landscape and architecture of your digital domicile can be changed, along with player avatars and art hanging on the wall. Menus and AI appear between players who engage in trades, clearly communicating information such as cards in-hand and what developments are available to purchase. Little animation flourishes and effects make most actions fun to watch, even when it's not your turn to jealously hoard sheep like some kind of shepherd baron.
The digital adaptation of Catan Studio's eponymous board game comes from a collaboration between Asmodee Digital and development studio Experiment 7, which previously ported Catan to Oculus' other headset models, as well as the Samsung Gear VR in 2018.
Catan has become a classic entry point into the board game hobby, often acting as the first stop along the path to more varied and complex experiences. Eventually, one tires of building the longest road and looks wistfully at that port, wondering what shores lay just beyond the horizon line.
Fans of Catan also display a tendency to craft increasingly elaborate and beautiful homemade boards, as well as unofficially branded beer, shoes and other paraphernalia. We show love in unconventional ways.
Catan VR for the Oculus Quest and Oculus Quest 2 can be purchased through the Oculus store for $15 (£11).