You can now drink a Catan beer while playing the board game
I'll trade this wheat for ale.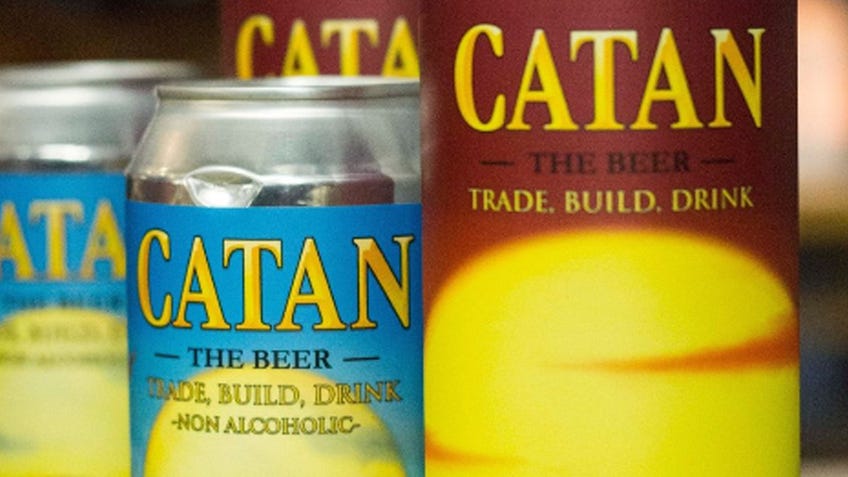 Catan, the classic board game about trading and building settlements, now has its very own collection of beers for players to drink alongside the game.
Update 8/12/20: A Catan Studio representative has told Dicebreaker that the Catan beer is not an official product, claiming that Tool Beer allegedly used the board game's art and logo "without our knowledge or permission". We will update this story with further information as necessary.
Original story continues below
Simply titled Catan: The Beer, the new beverage will be available to drink in both alcoholic and non-alcoholic versions, with the former displaying the box cover of the core game and the latter featuring artwork from the Seafarers expansion. The cans were unveiled by BRUS, a bar based in Nørrebro, Copenhagen that was constructed within an old iron foundry and locomotive factory.
The beer itself was created by Tool Beer, a brewery company was first established in Denmark in 2010, which has since opened BRUS and its own brewing facility called the Øl City - where it makes its various beverages. Besides beer, Tool also creates cocktails, wine and spirits, alongside a selection of merchandise for the brand.
Catan - originally known as Settlers of Catan - is a family board game that has players attempting to gather the most victory points by building settlements, cities, roads and other constructions. By laying claim to the different tiles on the map, players can acquire resources from the land every time the tile's associated number is rolled on the dice. Players can also gain resources by trading with their opponents or with the various merchants based around the land's coast.
A 25th Anniversary Edition of Catan was released last month, which features a copy of the core title along with the 5-6 Player Extension and a scenario first released in 2013 called Helpers of Catan. As well as the extension and scenario, this edition includes upgraded versions of the game's roads, settlements, cities and dice - which are all iridescent pieces - and sorting trays for all the resources.
Aside from its own brand of beer, the tabletop game is also getting its own line of footwear from Plainview, which was revealed earlier this year. According to the fashion company, the shoes' designs were "inspired by Catan's themes of trading, building and settling," with the footwear collection being made available in the US next year - Planview is yet to confirm whether the shoes will be available elsewhere.
Catan: The Beer is available at the BRUS bar and restaurant in Copenhagen, with the Instagram account for BRUS hinting that the beer would be "coming soon" to its online shop.