Kinderspiel des Jahres 2021 crowns Kingdomino spin-off Dragomino as best kids' board game of the year
Egg-cellent.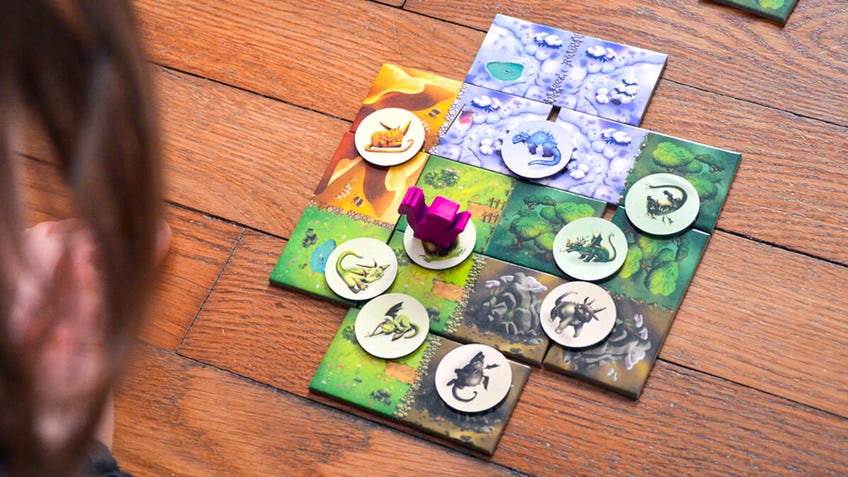 The kid-friendly follow-up to Spiel des Jahres winner Kingdomino, Dragomino, has been named the best children's game of the year by 2021's Kinderspiel des Jahres award.
Dragomino is an even more family-friendly version of Kingdomino, which picked up Germany's illustrious 'Game of the Year' prize in 2017 and has subsequently received an expansion, Age of Giants, and roll-and-write spin-off, Kingdomino Duel.
Kingdomino creator Bruno Cathala - who also designed the slightly more complex standalone sequel Queendomino - collaborated on Dragomino with Marie Fort and Wilfried Fort, who previously won the Kinderspiel des Jahres in 2019 for barrel-bowling game Valley of the Vikings.
Dragomino borrows Kingdomino's fantasy kingdom-building spin on classic dominoes, with players needing to place matching terrain squares next to each other to collect dragon eggs. Egg tokens can be worth victory points or empty - making them worth nothing - adding an element of luck and memory to the simplified tile arrangement puzzle.
"Dragomino is an impressive example of how you can turn a family game into a children's game," the Kinderspiel des Jahres jury said as part of its reasoning behind the decision. "Children will feel confident playing after just one game. The clever balance of luck and tactics means children will always want to dive into the world of the domino dragons."
Dragomino saw off competition from fellow nominees Mia London and the Case of the 625 Scoundrels, a detective game from 7 Wonders designer Antoine Bauza and Corentin Lebra, and vibrant storytelling title Storytailors, which uses a storybook in place of a traditional board and was also designed by Marie and Wilfried Fort.
Recommended for the 2021 Kinderspiel des Jahres - making them runners-up to the main shortlist - were Tapikékoi, Inspektor Nase, Dream Catcher, Käpt'n Kuller, Memo Friends, Swip'Sheep and Hipp Hopp Hippo, which surely wins the unofficial prize for best game name.
The winner of the Kinderspiel des Jahres is decided by a separate jury to the Spiel des Jahres and its more complex counterpart, the Kennerspiel des Jahres, and announced roughly a month ahead of the other two prizes. This year's Spiel des Jahres and Kennerspiel des Jahres winners will be revealed on July 19th. (Here's the full list of Spiel des Jahres 2021 nominees.)