Fallout: Wasteland Warfare's free companion app releases on mobile
New Vegas expansion announced, with solo scenario for RPG book out now.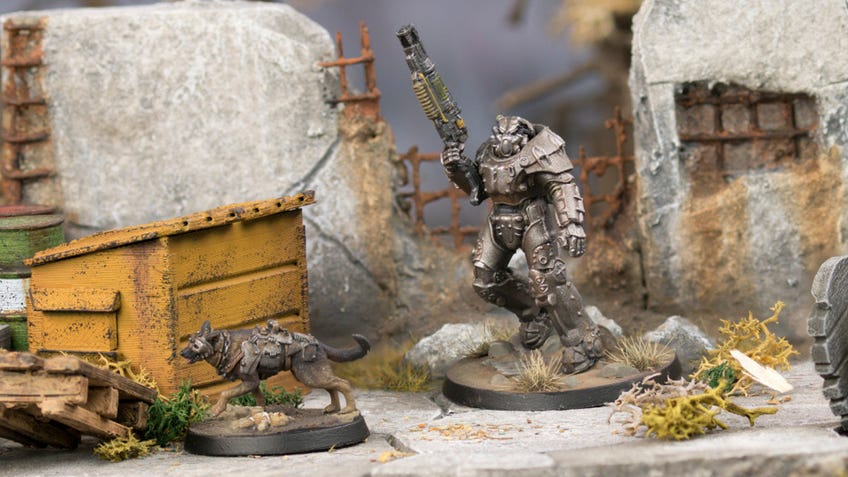 Create a band of wandering fighters or vicious raiders with a new companion app for miniatures game Fallout: Wasteland Warfare, available to download on mobile.
Wasteland Warfare's mobile app helps players to formulate their own crew of miniatures from the skirmish title's various factions. Using the helper, players can pick and choose between the possible units they can place within their roaming crew, with a point system ensuring that it remains a balanced team. On top of this, the Wasteland Warfare app works during ongoing matches by tracking the damage taken by a player's units, as well as their current statuses and any active tokens.
Additionally, players can use the Wasteland Warfare app to generate an AI opponent for them to pit their crew against, with the app managing the enemy team's behaviour.
Wasteland Warfare is a miniatures game based on the popular post-apocalyptic video game series Fallout. The tabletop title sees wandering groups of fighters clashing in the ruins of the US, and features characters from the Fallout universe.
Wasteland Warfare supports player-vs-player battles, as well as an entire narrative campaign and several objective-based missions for players to pursue. There is also a co-op game mode where players can team up against an AI force or one of the many dangers populating the vast wasteland.
Modiphius, the company behind Fallout: Wasteland Warfare, recently announced a new expansion for the miniatures game based in the world of spin-off Fallout: New Vegas, due for release in spring 2021.
Called the Mojave Expansion, the upcoming release will contain everything players need to play games within the city of New Vegas and the surrounding Mojave desert. Two new factions are also included in the expansion - the NCR and Caesar's Legion - as well as fresh scenarios to play and narrative cards to frame those scenarios.
Alongside the release of the Wasteland Warfare app, players will be able to experience the first solo scenario in Wasteland Warfare's spin-off tabletop RPG expansion. The Unexpected Shepherd is a single-player scenario that sees players engaging in a choose-a-path system where they can make choices and skill checks to advance the story. Players will be able to experience combat encounters by using Wasteland Warfare's AI system to control the enemy units.
The Fallout: Wasteland Warfare app is available to download for free now on iOS and Android devices.