Forbidden Lands, fantasy RPG from the studio behind Alien and Tales from the Loop, is under $8
Winner of four ENnie Awards.
For less than $8 players can begin a campaign in the world of Forbidden Lands, the throwback fantasy RPG by Free League Publishing - the studio behind the Alien RPG and Tales from the Loop.
Forbidden Lands is currently on sale in a Bundle of Holding, with players who are interested in getting started with the fantasy RPG able to pick up everything they need to kick-start their own adventure in a Starter Collection.
For $7.95 (£5.84), players can get PDF versions of three books for the RPG, including the Forbidden Lands Core Game - which features both the Player's Handbook and Gamemaster's Guide - a book containing four different adventure locations called The Spire of Quetzel and a print-and-play copy of the Forbidden Lands Card Deck.
The Spire of Quetzel features various adventure sites for players to explore where they can find a coven of warring witches, a demon queen, a prison holding a family of strange beasts and a graveyard containing a thunder lizard. These adventure sites are designed to allow players to freely discover secrets at their own pace, without the need for an assigned quest or pressure from NPCs.
For $19.78 (£14.52), buyers can get everything included in the Starter Collection, as well as an additional Bonus Collection containing three extra books. The Bonus Collection provides access to The Bitter Reach campaign book, maps and cards - which sees players venturing into an icy wasteland filled with guarded treasure - another campaign called Raven's Purge, which has players seeking out the stones for a magical crown; and the Crypt of the Mellified Mage, a collection of adventure sites containing a honey-drenched prison, a magical pottery, a temple of a monkey king and the mind of a mage.
Forbidden Lands is a roleplaying game that has players characters attempting to survive and find their own way through a land populated by dangerous creatures and opportunistic people. Characters in Forbidden Lands are not driven by the need to complete a quest given by a non-player character - instead, they're encouraged to explore the game's open-world in search of their purpose and a safe enough location to build a fortress for their party. Forbidden Lands was awarded four ENnies at the roleplaying awards show in 2019: two gold for Best Cartography and Best Production Values, as well as silvers for Product of the Year and Best Rules.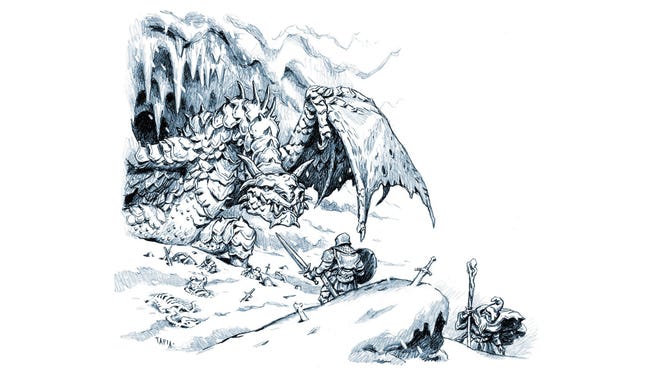 Besides Forbidden Lands, Free League is known for publishing movie spin-off Alien: The RPG, '80s-inspired sci-fi roleplaying game Tales from the Loop - which has since received its own television show on Amazon Prime - and 2019's doom metal RPG Mörk Borg, which currently has a Kickstarter campaign for a zine containing a collection of homebrewed content.
The Bundle of Holding deal for Forbidden Lands is live until 8th February, with 10% of purchases being donated to the international COVID-19 relief charity Direct Relief.