HeroQuest RPG publisher confirms Hasbro has acquired trademark, roleplaying series rebranded as Questworlds
Following surprise reveal of crowdfunded return for 1989 board game.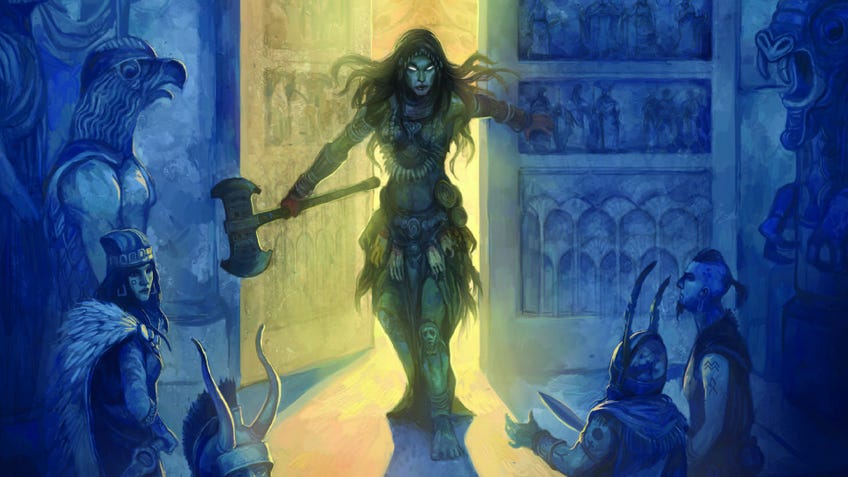 The publisher of the HeroQuest roleplaying game has confirmed that Hasbro has acquired the HeroQuest trademark, following yesterday's surprise announcement of a reboot of the classic dungeon-crawling board game.
HeroQuest was originally published in 1989 in a collaboration between family board game maker Milton Bradley - then owned by Hasbro - and Warhammer outlet Games Workshop. Despite seeing a sequel, Advanced HeroQuest, and several expansions, by the mid-nineties the game had gone out of print and the series' trademark lapsed.
In 2002, RuneQuest and Pendragon RPG designer Greg Stafford picked up the HeroQuest trademark to use in a new edition of designer Robin D. Laws' 2000 RPG Hero Wars, set in Stafford's RuneQuest universe of Glorantha. "Heroquest" was a term previously used in RuneQuest following its release in 1978 that Stafford had reportedly planned to use as a title for Laws' spin-off RPG, but the board game's release had made it unavailable at the time. The HeroQuest RPG was released in 2003 and followed by a second edition in 2009; neither shared any connection to the board game of the same name.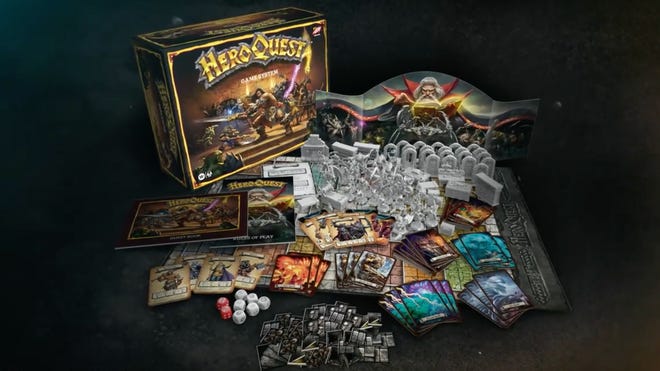 The HeroQuest trademark was later acquired in 2012 by Moon Design Publications, which published the RPG from 2006 alongside various releases for Stafford's RuneQuest. In 2015, Moon Design became part of Chaosium - the roleplaying publisher best known for Call of Cthulhu that was originally founded by Stafford - bringing the HeroQuest trademark under yet another new roof.
Now, Chaosium and Moon Design have announced that they have formally transferred the HeroQuest trademark back to Hasbro, effectively bringing the series full-circle after more than 30 years.
The roleplaying game formerly known as HeroQuest will be rebranded as Questworlds, Chaosium said. In April, the publisher released Questworlds' core rules as a system reference document, allowing the RPG's gameplay to be used in settings outside of Glorantha. While the announcement at the time hinted at the possible return of the HeroQuest name to Hasbro, this latest announcement confirms that the trademark is officially back in the hands of its original owner.
Chaosium said that the rebadging of the HeroQuest RPG as Questworlds would not affect the game's rules. It added that it would sell off remaining copies of the game under the HeroQuest name, with future releases appearing under the Questworlds moniker.
After a teaser countdown, Hasbro revealed yesterday a new edition of HeroQuest being crowdfunded ahead of a planned release in 2021 - the first new release for the series in over two decades. The upcoming board game is said to be a faithful remake of the original, with some minor visual and lore changes but the gameplay largely untouched. Two of the original game's expansions are also being re-released as part of the campaign, which aims to raise $1 million by November. For now, the new game has only been confirmed for release in the US and Canada.
Over the summer, Return to Dark Tower publisher Restoration Games - which specialises in bringing back older titles with updated new editions - sparked discussion around the potential return of HeroQuest with its own registration of a trademark for "HeroQuest Legacies". Founder and president Justin D. Jacobson later told Dicebreaker: "We often are looking at our top 5 requested games and taking steps to see if we can make them. Securing a trademark is one step but it is not the only step. We have many pieces to put together for all our games before we have the rights to make them. Trademarks are a public piece of the puzzle and unfortunately convey a lot more implied weight than is justified. Importantly, what we filed was under the USPTO "intent to use" provision. If and when there is something to announce, believe us, folks will know."