Infinity N4 is out, and you can download its complete rules for free now
Nomad-er what you play.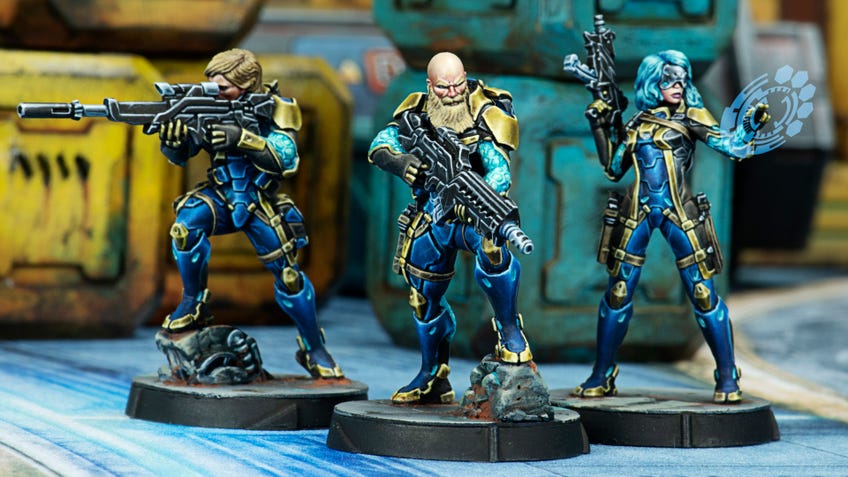 The fourth edition of Infinity has been released, with the latest rulebook for the sci-fi miniatures game available in full for free.
Infinity N4 was revealed over the summer as the first major update for the skirmish game since its third edition N3, released in 2014 and revised in 2016's Infinity: Human Sphere N3.
The newest instalment of publisher Corvus Belli's manga-inspired universe and skirmish wargame is touted as being an overhaul of the game's rules based on feedback from players, with clearer rules, more flexibility to play at different scales - allowing from smaller, quicker matches up to 15 models per player in standard battles - and widespread updates to units' abilities and stats, allowing more variety in the way players build an army.
The Infinity N4 rulebook has been released in a physical slipcase edition bundled with a second book detailing the world's lore, but has also been made available to download for free from Corvus Belli's website.
The 448-page PDF is the complete rules, with the game's creators recommending that total newcomers start by picking up beginner-friendly set Infinity CodeOne, released earlier this year.
The tokens and markers required to play the game can also be downloaded for free, allowing the game to be played with existing models without spending a penny.
N4 introduces three additional sectorial sub-factions to Infinity's roster of armies: Kosmoflot, White Company and Starmada, the first sectorial army for faction O-12, which debuted in 2019's Operation Wildfire set.
Alongside the release of the revised rulebook, Infinity's free companion app and digital army builder have been updated to reflect the latest edition.