Monopoly Go! is a "highly social" mobile game based on the family classic
Build and destroy property empires.
A new mobile game based on the classic board game Monopoly is available to play right now.
Monopoly Go! is a "highly social" digital game you can play on your mobile that enables players to experience the gameplay of the tabletop original through their device. Directly inspired by the family board game, Monopoly Go! features recognisable imagery such as Mr Monopoly and tokens like the top hat, as well as entirely new characters Sofia Wattsitworth and Benjamin Basu.
Players can experience the gameplay they're familiar with from the tabletop version of Monopoly via a classic mode. This gameplay mode in the digital board game has players rolling virtual dice and moving their chosen token across a virtual board in order to acquire property, collect rent from other players and expand their business empires by buying houses and hotels. Along the way, players may have the opportunity to draw chance or community chest cards, whilst being sure to avoid other players' properties and the police.
Alternate modes included in Monopoly Go! are an empire building mode that sees players establishing their own real estate empires – which can feature recognisable landmarks – in order to unlock over 100 new boards to play on. Players will also be able to upgrade their landmarks to increase their rewards. On top of that, players will be able to compete with other Monopoly Go! players to destroy other players landmarks and steal money from them to fund their own empires.
Players will be able to interact with one another further by playing mini-games like community chest – which can help friends work together to earn money and rewards – compete in daily tournaments to get limited-time prizes and collect stickers to show and trade.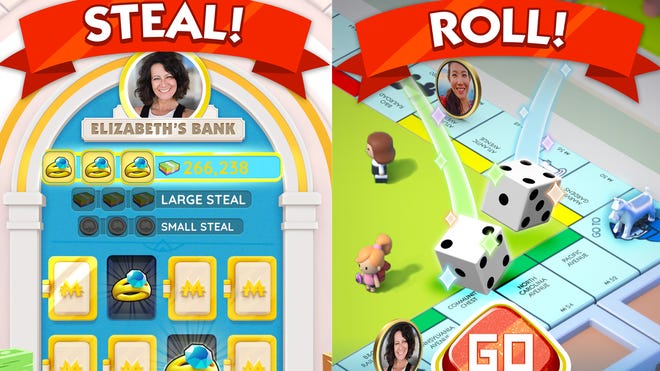 Update: This article previously stated that Hasbro is co-publishing Monopoly Go!. This has since been corrected.
Monopoly Go! is developed and published by Scopely, a company that has previously developed titles such as Yahtzee with Buddies and a digital version of the classic word game Scrabble.
Players can download and play Monopoly Go! for free right now on either the iOS app store or the Google Play store, with in-app purchases featured in the game.