Play a spoiler-free demo of Pandemic Legacy: Season 0 on Tabletop Simulator now
CIA what you think.
Get a taster of Cold War dramatics and covert thrills in a free spoiler-free demo for upcoming board game Pandemic Legacy: Season 0, released on Tabletop Simulator.
The free Pandemic Legacy: Season 0 demo sees players experiencing a digital version of the game's prologue mission, a replayable scenario designed to avoid narrative and mechanical spoilers from the rest of the campaign.
Available to download as a Tabletop Simulator mod - the PC game in which players can interact with game boards and pieces in a virtual space - the Season 0 demo gives players the opportunity to experience some of the game's new rules and get an idea of what to expect in its full release later this year.
Pandemic Legacy: Season 0 is the final entry in the popular legacy game series. The game is a prequel, casting players as secret agents for the CIA during the height of the Cold War. Players must work together throughout the co-op board game's multi-game campaign - spanning the 12 months of 1962 - to uncover a secret Soviet bioweapon called Project MEDUSA, as well as hunting down a rogue US agent.
Fully revealed last month, Pandemic Legacy: Season 0 will feature brand new mechanics for the Pandemic series inspired by its Cold War setting, including multiple aliases for each player character, the ability to control teams of agents and branching storylines that players read from a narrative journal.
In an interview with Dicebreaker, designers Matt Leacock and Rob Daviau revealed that there are no disease cubes at the beginning of Season 0, with players focused on avoiding Soviet agents and tracking down their own targets using the new gameplay elements. The creators also confirmed that Season 0 is the final entry in the planned trilogy of games.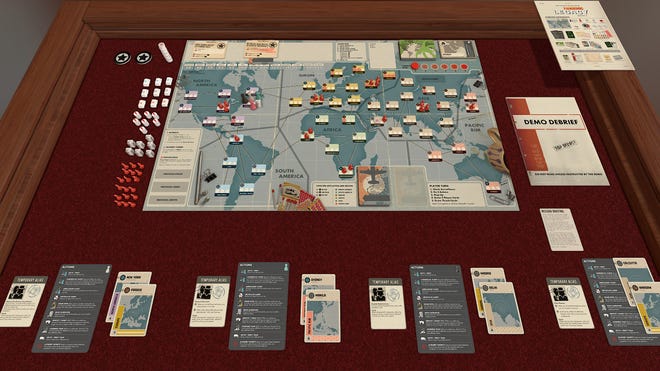 Z-Man Games, the publisher of the entire Pandemic series, is yet to confirm Pandemic Legacy: Season 0's release date, following its delay from the beginning of 2020. The game is expected to be released sometime later this year.
You can download the Tabletop Simulator demo for Pandemic Legacy: Season 0 now from the Workshop section of the app's game page on Steam. The mod itself is free to download, but you will need to own a copy of Tabletop Simulator to play it.