Pandemic Legacy: Season 3 revealed as prequel Season 0 in announcement trailer - exclusive
"Every end has a beginning."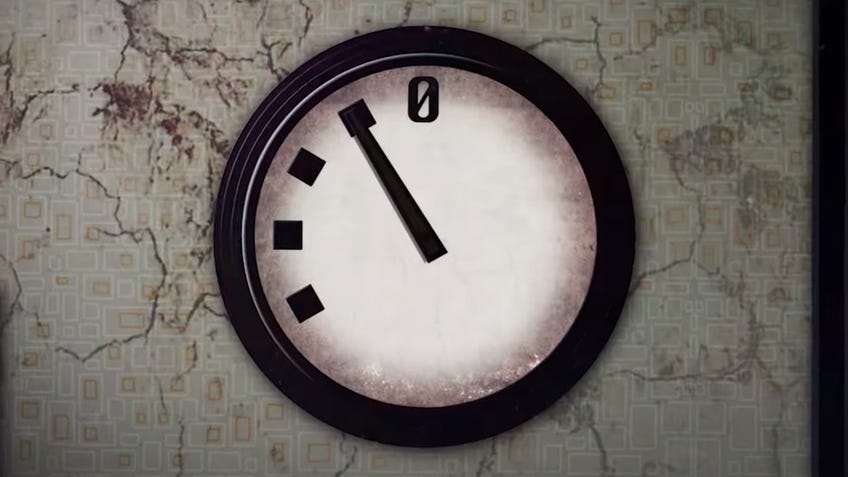 The third Pandemic Legacy game has been revealed as Pandemic Legacy: Season 0, a prequel set before the previous two titles in the series.
Dicebreaker can exclusively reveal the announcement trailer for the upcoming board game from publisher Z-Man Games, which follows 2015's Season 1 and 2017's Season 2. Pandemic Legacy: Season 3 has previously been described as the final instalment in the planned trilogy by designers Matt Leacock and Rob Daviau.
In the short video, a clock reminiscent of the Doomsday Clock ticks toward zero while wallpaper cracks and rain pours outside. On the lefthand side of the scene, a filing cabinet can be seen with a label that reads "MONS", along with what appears to be a James Bond-esque gun logo.
As something starts to beep and lights flash red, the video crackles with static before cutting to the board game's tagline: "Every end has a beginning."
The game's logo is then revealed, unveiling its name as Pandemic Legacy: Season 0 and confirming its place as a prequel.
A trailer for Pandemic Legacy: Season 3 was previously teased at last year's tabletop convention Essen Spiel, where its release date was given as Spring 2020.
Following the worldwide COVID-19 crisis, Z-Man announced in late March that it had postponed announcements of future games in the Pandemic series until a "more appropriate time" due to the real-life pandemic - including an apparent delay to Pandemic Legacy: Season 3. A spin-off game from the original Pandemic, Pandemic: Hot Zone - North America, was officially announced in May, following a leak of the smaller, faster game in mid-April.
Pandemic Legacy: Season 1 was widely acclaimed upon its release in 2015, gathering praise for its introduction of a narrative campaign and legacy elements - including stickers, instructions to destroy or permanently alter cards, and new unlockable gameplay elements - to the popular co-op title. The game rose to the number one spot in BoardGameGeek's hallowed rankings, overtaking Twilight Struggle, only being unseated several years later by Gloomhaven.
"We had absolutely no idea that the game would do as well as it did and garner so much excitement," Leacock told Dicebreaker in an interview earlier this year.
Pandemic Legacy: Season 2 added a new exploration element to the game, requiring players to gradually reveal the game's global map by applying stickers to its board. The game also turned the core Pandemic gameplay of curing diseases by removing cubes from location on its head, instead requiring players to add vaccines to areas to fend off the spread of infection.
Both legacy games took place over the course of a year, with players playing at least one game per month - two if they failed to achieve victory the first time around. Each month would bring new story events and gameplay rules, including extra components, with players' decisions having an effect on the state of the world and the story.
Ahead of the Pandemic Legacy: Season 0 trailer reveal, an image of the game's box seemingly leaked on Z-Man's website, as spotted by Reddit user arankas. The artwork shows one character burning a piece of paper while another is dressed in sunglasses, a hat and a trench coat, leading to speculation that the game takes place during the espionage era of the Cold War.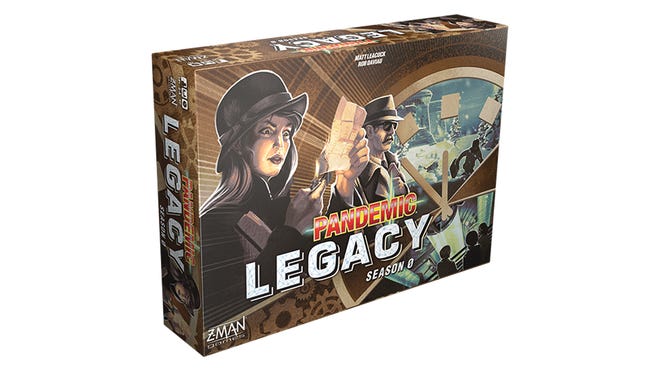 Both of the previous Pandemic Legacy games have been offered in two different variants with different artwork but identical contents, allowing players to play multiple campaigns at once with separate groups. There is no confirmation yet that Season 0 will follow this trend.
No gameplay details for Pandemic Legacy: Season 0 have been officially revealed. The board game's setting and story also remain unconfirmed for now. Season 0's release date is yet to be announced, with a release later in 2020 a possibility.