Amateur drawings of Pokémon set to fetch tens of thousands at auction in wake of $5m Pikachu Illustrator sale
Just 100 copies of each Art Academy card were given to winners of 2015 competition, with some still to reappear.
Pokémon cards featuring artwork by amateur artists are among the latest Pokémon cards to fetch incredible sums at auction.
In the wake of the record $5.275m sale of the legendary Pikachu Illustrator - making it the most expensive Pokémon card of all time - to YouTuber Logan Paul in 2021, other cards offered as prizes for drawing and illustration contests held both in Japan and around the world have been fetching not quite as staggering, but still impressive, prices under the hammer.
"The Illustrator was the first illustration contest card," Sam Pantellerisco, owner of UK Pokémon card seller Chibi Collectables, explained to Dicebreaker. "Something that's a little bit niche in Pokémon is Pokémon over the years have done illustration contests."
Unlike the Pikachu Illustrator, which was illustrated by original Pikachu designer Atsuko Nishida, other illustration cards have featured the winning designs by Pokémon fans themselves. In June, a Spiky-Eared Pichu card with artwork drawn by a second-grader for a magazine competition held in 2009 sold for over $25,000, becoming the most valuable Pichu card to date. Between 13 and 100 copies are believed to exist, making the custom card one of the rarest Pokémon cards ever made.
Other illustration cards due to sell for tens of thousands include the Art Academy cards, offered as prizes for a competition held between 2014 and 2015 to mark the release of Nintendo 3DS video game Pokémon Art Academy, in which players learn to draw Pokémon on the touchscreen console by following tutorials.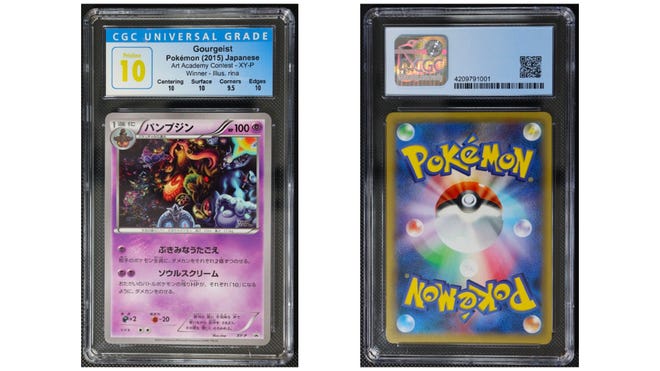 The competition was the first Pokémon illustration contest to be held outside of Japan, and invited international fans to submit artwork created in the video game's Free Paint mode across two categories: Dress-Up Pikachu, featuring the popular electric mouse in costumes, and Your Favorite Pokémon, which allowed for any Pokémon to be drawn. 10 winners from Japan and 12 winners from the rest of the world (five or three in each category, per region) received 100 copies of their design on physical cards.
"It was literally drawn by artists with the stylus on the game," Pantellerisco explained.
"Something that was unique is the winners who won got 100 copies of each of their cards - but just their card. And it was up to them to do whatever they wanted with it; whether they wanted to keep them or whether they wanted to sell them."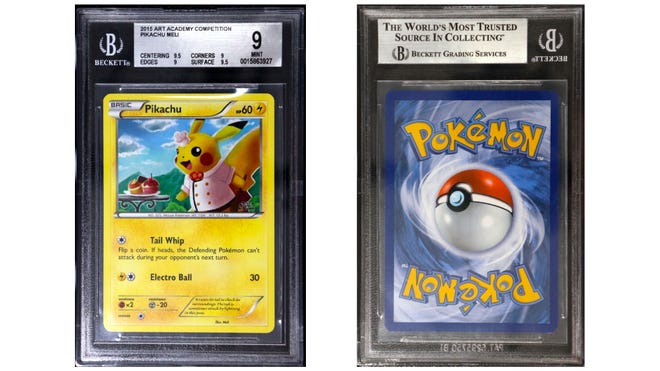 Adding to the already limited availability of the cards is the fact that, while some have appeared at auction in the eight years since the contest, others are still yet to be seen by the public. The cards' extreme rarity reportedly led card condition specialist PSA to refuse copies submitted for grading, apparently citing the difficulty of validating their authenticity and the manner in which they had been acquired by would-be sellers.
"Unlike other contests, where every single card of a contest has always been for sale, with the Art Academys, certain cards have never came out into the public eye yet," Pantellerisco said, adding that some buyers are on a three-year waiting list to purchase copies that have appeared. "Some winners sold all their copies out the gate, some people have still yet to sell a copy. So it's still very elusive. And it's more of a long-term collection goal. When they pop up it's cool to see, and people don't see them too often.
"If you wanted to complete the set, you currently couldn't, because there's certain winners who haven't sold. I think they're also a little bit niche, and they're a little bit more rare."
"I know that Art Academys are really sought after," agreed influential Pokémon trader Mister Fuji, who brokered Logan Paul's record deal for the Pikachu Illustrator. "These are the kinds of items and cards that will be always sought after, and go up in value."
Copies of Art Academy cards currently up for sale via eBay ahead of this weekend's Pokémon World Championships in Tokyo include an illustration of ghostly Pokémon Gourgeist by Rina, listed for £65,000, and a charming picture of Pikachu sheltering from rain drawn by Y. Fujishima, offered at £75,000. Other Art Academy cards include the likes of Meli's 'Chef Pika', up for sale for a slightly more modest £7,000.
"There's definitely something compelling about involving the community in making a card and celebrating artists, whether professional or amateur," said eBay UK's Collectable Card Games category manager Kevin Aloe. "More recently, the Art Academy winner cards have become unique collectables. What's fascinating is they rarely surface on the market at all - which makes them very elusive.
"It's fascinating to think that, through Pokémon, some 64x84mm amateur and professional artworks have become famous and been seen by more people than many traditional works of art. This shows art is universal and doesn't discriminate."