Pokémon TCG's nostalgic Classic set - featuring OG Venusaur, Charizard and Blastoise cards - will cost you an eye-watering $400
Vintage pulls, plus six new cards and the first international release of a Mr. Mime.
The Pokémon TCG's upcoming Classic set will take players who remember the card game's earliest cards back to their childhood days with a premium set that includes decks built around the series' original starters: Venusaur, Charizard and Blastoise. What won't remind you of your childhood, however, is its price - unless you were earning hundreds in pocket money.
Pokémon Trading Card Game Classic was revealed earlier this year as a luxury way to celebrate the card game's 25-year-plus history, pairing premium stackable tokens for tracking damage and conditions with a folding two-player game board (instead of the standard paper playmat), card sleeves and deck boxes, all stored within a case with a built-in randomiser.
The actual cards in the set will be similarly fancified, with the three 60-card decks based around the Gen 1 favourites made up exclusively of holographic foil cards.
As well as the recreations of the original Venusaur, Charizard and Blastoise cards from the Pokémon TCG's very first Base Set, the Classic set will include choice "vintage" picks from through the card game's almost three decades of releases, plus six new cards: legendary Pokémon Suicune ex, Lugia ex and Ho-Oh ex, plus trainer cards Sun Seed, Scorching Charcoal and Drops in the Ocean. Also included will be the first international printing of a Mr. Mime card previously exclusive to Japan.
The cards in the Classic set won't be tournament-legal, mind - aside from the Basic Energy cards included - as indicated by disclaimer text along the bottom of each card. The Pokémon Company confirmed that the new cards introduced in Pokémon Trading Card Game Classic will be released in a separate set in February 2024.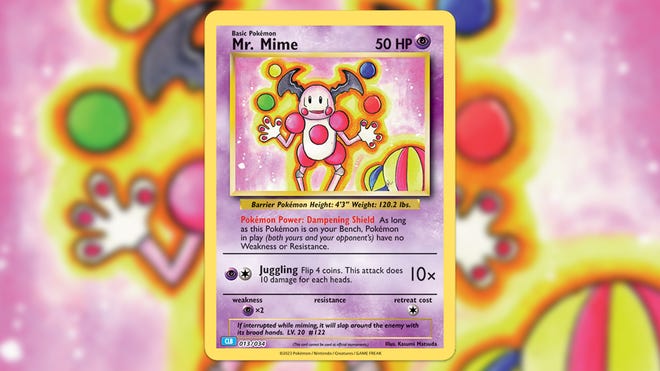 Created in partnership with Japanese design firm Nendo, the Classic set has never pretended to be anything other than a high-end release for Pokémon TCG fans with money to spare, with Pokémon Company president Tsunekazu Ishihara calling it "a premium Pokémon TCG set that will last a lifetime" during its announcement.
Even so, many fans might baulk at the Classic set's newly-revealed price tag; the premium set will cost you back $400 when it releases this November. Best start selling those OG Base Set cards if you want to afford a copy.