Star Wars Villainous is down to its lowest price ever on Amazon US
Join the dark side and play as Darth Vader, Kylo Ren and other Star Wars villains.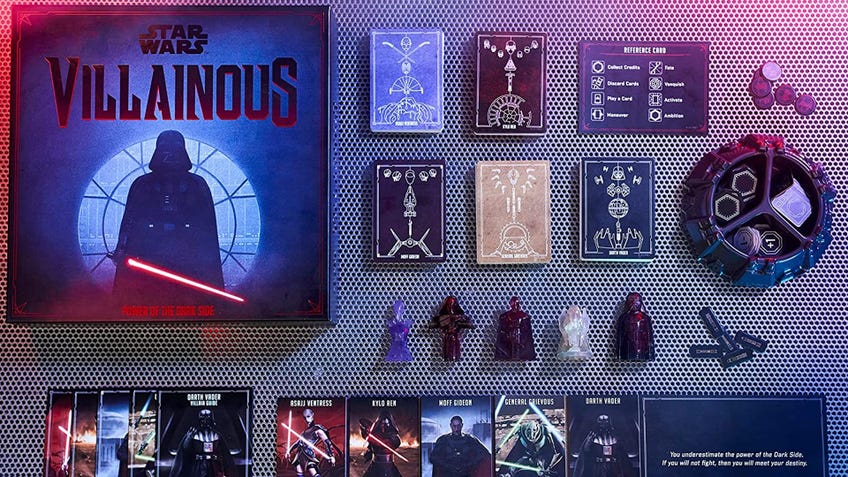 Star Wars Villainous: Power of The Dark Side is down to its lowest price ever on Amazon US today.
The game was released by Ravensburger last summer and normally costs $39.99, but you can currently grab it for just $24.90.
This is the cheapest price that we've seen Star Wars Villanious drop down to, making it the perfect time to add it to your board game collection. It would also make a great gift for a Star Wars fan.
| | |
| --- | --- |
| | Save $15.09 on this Star Wars board game at Amazon US. |
UK shoppers can also buy Star Wars Villainous for a bargain price. It is now only £27.99 at Amazon UK- that's £12 off the regular price and a 30% saving.
Star Wars Villainous uses the same system as the Marvel and Disney Villainous games, where each player is given a unique objective and abilities. In this edition, players choose to play as iconic Star Wars villains including Darth Vader, Kylo Ren, General Grievous, Asajj Ventress, and Moff Gideon. Players can use their different abilities to halt their opponents from completing their own objectives, such as making them battle Jedi like Luke Skywalker or deploying TIE Fighters to engage with the Millennium Falcon.
The game can be played between 2-4 players and has an average run time of approximately 20 minutes per player. The game includes: 5 Unique Sculpted Villain Movers, 5 Villain Sectors (Boards), 150 Illustrated Villain Cards, 75 Illustrated Fate Cards, 1 Luke Skywalker Tile, 1 Destiny Tracker, 79 Game Tokens, 1 Chamber, 5 Reference Cards, 5 Villain Strategy Guides, Rulebook.
While it hasn't made our Best Star Wars board games list, it is still an enjoyable game to play with friends and family- especially for this price! Make sure to check out our Deals section for more great savings like this and follow us on Twitter for the latest board game news.