Star Wars: X-Wing's updated Squad Builder app adds Epic Play and offline mode
New software for your droid.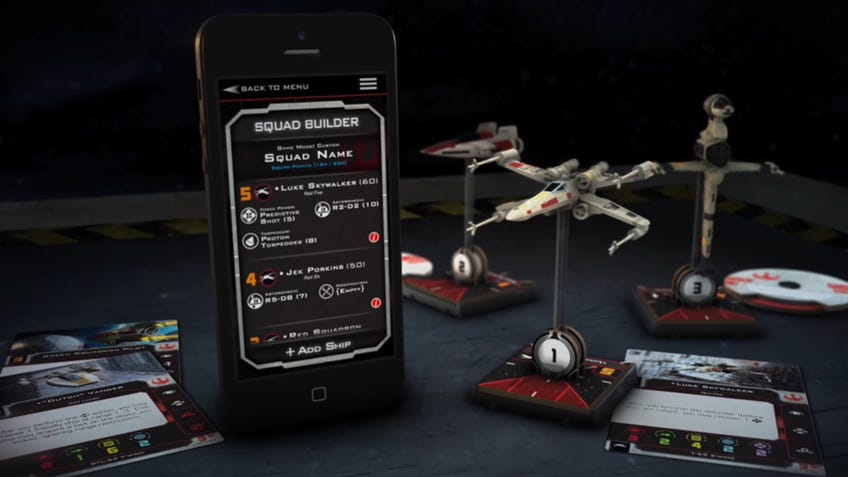 The Squad Builder app for the Star Wars: X-Wing miniatures game has been updated to include new features including an offline mode and support for Epic Play.
Initially launched in September 2018 alongside the second edition of the game, the Squad Builder app for Star Wars: X-Wing is designed to provide players with a way of gathering a collection of ships to suit their playstyles, creating their own line-up of units to use during games.
This new update adds various tools including an offline mode, enabling players to use the Star Wars game app without being connected to the internet. Any changes made in offline mode are automatically synchronised with the player's existing list once they reestablish their connection. The update also adds Epic Play support, meaning that players can build a squad that features epic ships and upgrades, such as those found in the Tantive IV expansion or Huge Ship Conversion Kit.
With the update, the Squad Builder app now has a collection manager for players to see which X-Wing expansions are not included in their current fleet. The collection manager warns a player whenever they try to add an X-Wing card they don't currently have to their squad - providing information on which expansions they might need to get the ships or upgrades they want.
Star Wars: X-Wing is a miniatures game for two players that pits the pilots of various starships from the movie franchise against one another. With the option to choose from multiple different types of spaceships from either the Rebel Alliance or Imperial forces, players attempt to outmanoeuvre their opponent in order to destroy their ship first. Depending upon the ship players choose to control, they will have their own unique piloting dial they can use to select their speed and type of manoeuvre each turn.
The update for the app was released by Fantasy Flight Games, the publisher behind the Star Wars miniatures games. Star Wars: X-Wing, Armada and Legion will soon be handled by another Asmodee company, Atomic Mass Games - the studio responsible for the Marvel: Crisis Protocol miniatures game - which recently took control of the three series.
Players can download the Star Wars: X-Wing Squad Builder app on Android and iOS, as well as access a web version via their browser.