Star Wars: X-Wing, Legion and Armada development moving to Marvel: Crisis Protocol studio
Out with the old, in with the Jakku.
The development of Star Wars X-Wing, Legion and Armada is being moved to Atomic Mass Games, the company behind miniatures game Marvel: Crisis Protocol.
According to Asmodee - the board game giant that owns publishers such as Ticket to Ride maker Days of Wonder and Catan Studio - the Star Wars miniatures titles once produced by Fantasy Flight Games, the studio also responsible for horror games Arkham Horror and Mansions of Madness, will now be developed by Atomic Mass Games. The move looks to reorganise Star Wars X-Wing, Legion and Armada under the banner of one of Asmodee's existing miniatures games companies.
Atomic Mass Games has developed the Marvel: Crisis Protocol Miniatures Game since its release in 2019, releasing various additional units to add to the title's starting roster of Avengers members including Black Widow, Captain America, Captain Marvel, Iron Man and Spider-Man, alongside several others. In the game, two players create their own team of superheroes from the Marvel franchise of comics and pit them against one another in an epic battle. Following the launch of the core release, Crisis Protocol has seen the arrival of characters such as Hulk, Venom, Black Panther, Loki, Vision and more besides.
The Star Wars miniatures games will be the first set of titles outside of Crisis Protocol that Atomic Mass has worked on.
X-Wing was originally released in 2012 as a two-player miniatures game that sees players choosing between a wide variety of different spaceships found within the Star Wars universe, before competing in a dogfight with their opponent. The game has since grown a dedicated fan base that includes professional players attempting to further develop its tournament scene.
Armada expands the single spaceship combat of X-Wing into a larger-scale battle between the forces of the Rebel Alliance and the Imperial Navy. Considered as one of the best Star Wars games since its release in 2015, Armada sees two players engaging in a fight between their opposing fleets - with each side aiming to successfully complete their objectives before the other.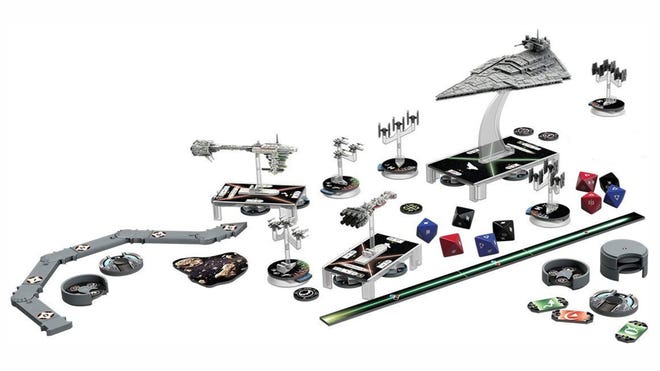 The most recent of the Star Wars miniatures games is Legion, which looks to recreate the many ground battles depicted during the Galactic Civil War. Players embody a commander of an army of miniatures - which includes iconic characters such as Luke Skywalker and Darth Vader - and seize control of the battlefield ahead of their opponent's forces.
Atomic Mass Games has yet to confirm what its plans are for developing the Star Wars line of miniatures games. However, earlier this year Fantasy Flight stated that it had new releases for its own Star Wars games set to release up until the end of 2023.