Rarest Yu-Gi-Oh! card of all time, one-of-a-kind Tyler the Great Warrior, going up for sale
Created in 2005 as a Make-A-Wish for a teenage fan battling cancer.
A one-of-a-kind Yu-Gi-Oh! monster, the rarest Yu-Gi-Oh! card of all time, is going under the hammer at auction next month.
Tyler the Great Warrior was created in 2005 for a 14-year-old Yu-Gi-Oh! fan, Tyler Gressle, battling a rare form of liver cancer. Gressle's diagnosis in 2001 made him one of just 200 recorded cases of undifferentiated sarcoma of the liver in the United States at the time.
Children's charity Make-A-Wish worked with 4Kids Entertainment, the North American distributor of Yu-Gi-Oh!, to create a unique Yu-Gi-Oh! Card for Gressle to honour his battle against the disease. As well as designing the card, Gressle was invited to tour the company's New York City headquarters, meet card artists and some of the voice actors behind the anime, and see the card being produced.
Tyler the Great Warrior's artwork is inspired by Gressle's fondness for Dragon Ball Z character Future Trunks, with the illustration drawn by Yu-Gi-Oh! creator Kazuki Takahasi. The final image was one of two concepts drawn by the legendary mangaka, who passed away last year.
The monster is a level 8 Warrior-type with 3000 attack and 1500 defence points, with its effect dealing direct damage to the opponent's life points equal to the ATK of every monster it destroys. The card's reference number TYL-EN001 acknowledges its origins and one-of-a-kind status.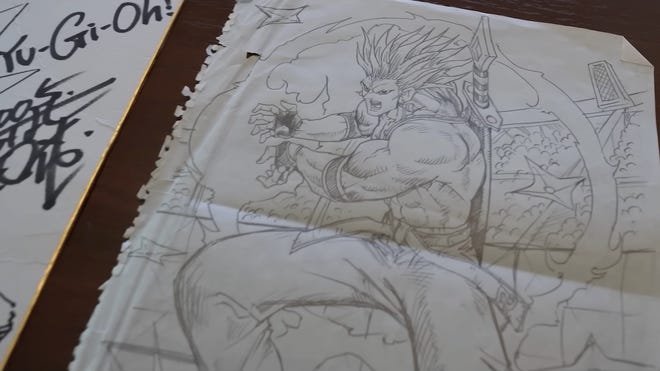 In a documentary video with YouTuber Alex "Cimoooooooo" Cimo, Gressle recalls that the card was printed and immediately sealed in a case, meaning "no-one has touched it with their bare hands". According to Gressle - citing 4Kids - no additional or alternative copies were ever printed.
In the video, Cimo opens the case for the first time in order to have the card graded. The card is ultimately rated at a Near-Mint 7 on specialist Beckett Grading Services' 10-point scale, with the card revealed to have suffered a crease on one corner and other surface damage due to the pressure applied by its original storage case.
Gressle said that he had never considered selling the card in the almost 20 years since its creation. He plans to use the money raised to travel the world and visit oversea relatives, with a portion of the proceeds being donated back to the Make-A-Wish Foundation.
"I've cherished it for a really long time and I think it would be nice for others to be able to cherish it in a public space, or someone who's going to really truly value that card," Gressle said.
Tyler the Great Warrior will go up for auction on eBay from April 19th until April 29th.