Yu-Gi-Oh! Lego set turns Blue-Eyes White Dragon and Dark Magician into bricks, along with a deck box for your cards
Yugi Duplo.
A Yu-Gi-Oh! fan has recreated two of the trading card game's most iconic monsters as a Lego set, including a working deck box made out of bricks.
The Yu-Gi-Oh! Card Box: Dark Magician vs Blue-Eyes White Dragon design was originally posted to Lego Ideas by user Zero Helix in May 2021. Lego Ideas, for those unfamiliar, allows creative Lego fans to suggest future sets for the toy company to make; if a set amasses enough votes, it will officially be considered by Lego for future release.
Since being posted almost two years ago, the Yu-Gi-Oh! Lego set has managed to get within touching distance of official consideration. At the time of writing, it sits on 8,148 votes - leaving fewer than 2,000 needed to cross the 10,000 mark needed to earn an expert review from Lego's designers.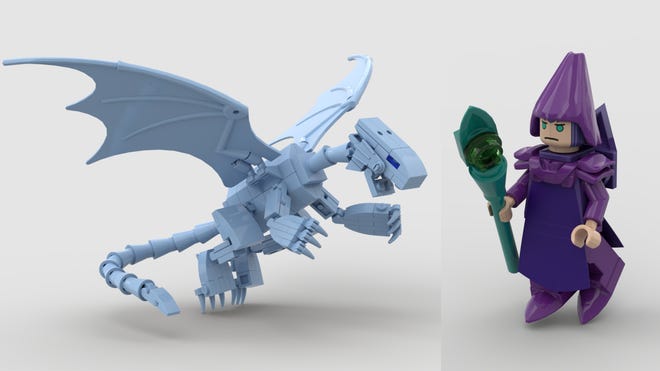 As well as a buildable recreation of Seto Kaiba's legendary Blue-Eyes White Dragon and a custom minifig modelled after Yugi Muto's Dark Magician, Zero Helix's design works in a number of familiar elements from the Yu-Gi-Oh! series.
The duelling monsters sit atop a box that brickifies the Gold Sarcophagus on Yugi's card of the same name. Like the Gold Sarcophagus metal storage tin released a number of years ago, Zero Helix's Lego design allows the sarcophagus to be opened to store sleeved Yu-Gi-Oh! cards, making it a working deck box.
"I created this build because, like many others and their pastimes, latching onto my hobbies of Lego and Yu-Gi-Oh! has given me great comfort during some hard times in my life, and the strength of this idea is that being a fan of both pursuits is unlikely to be a unique experience," Zero Helix wrote.
"Perhaps Lego could even ask Konami to include an exclusive card with the set as part of the collaboration to boost sales even more!"
As well as Blue-Eyes White Dragon and Dark Magician, Zero Helix's Flickr album shows their efforts to transform other Yu-Gi-Oh! monsters into Lego builds, including Black Skull Dragon, Gate Guardian and Gaia the Dragon Champion.