Welcome to Dicebreaker!
Your new home for all things board games, RPGs and tabletop, plus silly jokes.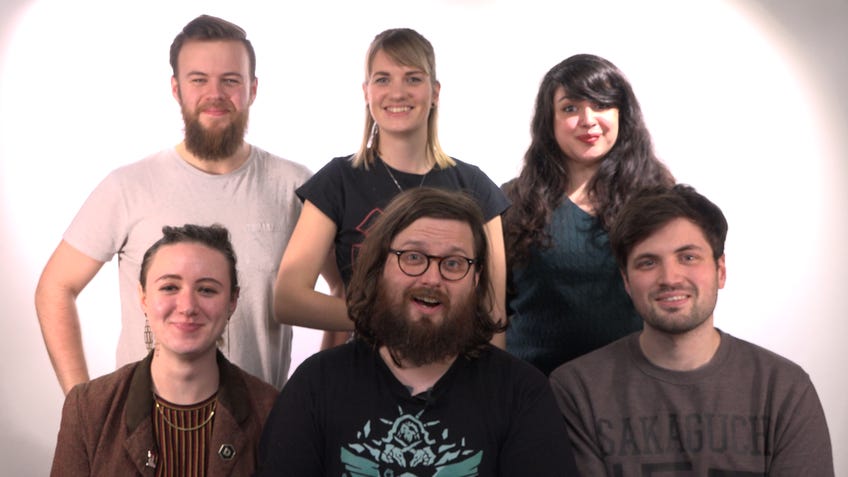 Hi there! Welcome to Dicebreaker - our new website all about board games, pen-and-paper RPGs, trading card games and pretty much every kind of tabletop game you can think of.
If you're reading this, you've probably stumbled onto Dicebreaker from elsewhere on the internet, you follow us on social media or ventured across after watching some of the videos on our YouTube channel. However you found your way here, we're happy you came - and we hope you find plenty to make this your new home for all things cardboard.
If you haven't met us already, the Dicebreaker team is made up of people who love games and want to share their love of games with the world. We'll be bringing the best that the tabletop has to offer to you every single day, throwing a spotlight on some of the must-play games you should consider picking up before your next board game night and diving into the people and stories behind the games you already love.
Want to know what the latest hotness is in the world of board games? You'll find it here, thanks to daily in-depth news penned by our experienced team of writers. Definitive reviews written by the best critics in the industry will let you know whether the latest blockbuster release is worth picking up, and introduce you to some of the hidden gaming gems you might've missed otherwise.
If you prefer to play the classics, we'll be taking an in-depth look at how some of the best games of all time were created with designer, artist and publisher interviews revealing their untold stories. Whether you're into Gloom or Gloomhaven, Twilight Struggle or Twilight Imperium, we'll have something for you to enjoy and discover.
Maybe you're brand new to the hobby, and simply want to know where to start. Well, you're in luck! We've got loads of friendly, easy-to-understand how to play guides and top tips on everything from building your first deck in Magic: The Gathering to creating a character in Dungeons & Dragons, which will help you dive into your first game feeling confident and ready to have fun.
To help you build up (or expand) your collection, the Dicebreaker team has picked out some of the best games for fans of co-op board games, family favourites, party crowd-pleasers, quick games and more, so you can find something new to play and know you're in for a good time. If you want to know the best beginner board games to play after Catan or the very best board games you can buy and play right now, we've got you covered.
Every day we'll have videos of the team playing games and giving their thoughts on what they've played, so you learn how to play and find out whether something's for you before getting it yourself. Plus, we make silly jokes and might just make you laugh - come hang out with the Dicebreaker team and community during our weekly live stream to watch us play, paint and celebrate all that's great about tabletop gaming.
So have a look around, discover some of our favourite games and let us know yours over social media, in the comments and in the chat during our next live stream.
Welcome to Dicebreaker. We hope you stay a while. And have a lovely day.