Catan, Carcassonne and more digital board games are up to 50% off on Nintendo Switch
Asmodee Digital titles reduced on Nintendo eShop until April 19th.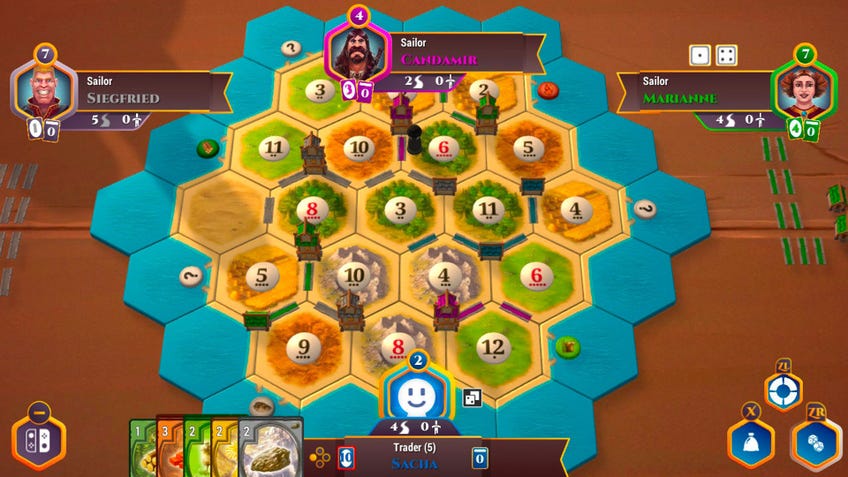 A selection of digital board games including perennial beginner board games Catan and Carcassonne are up to half price on Nintendo Switch's eShop this week.
Developer Asmodee Digital has five of its six titles on sale until April 19th, knocking up to 50% off the usual price. The only Asmodee Digital Switch game not on sale is Pandemic, which remains full price at £17.99.
Catan - one of the most popular and best board games of the modern age - is reduced from £17.99 to £8.99. The digital board game includes a new campaign mode exclusive to the app, which throws up a variety of scenarios for players to tackle as they trade resources and build settlements across the island, as well as online multiplayer. (Bear in mind you'll still need a Nintendo Switch Online subscription to play over the internet.)
Catan on Nintendo Switch includes the Seafarers expansion, but you can currently pick up the game's other digital expansion, Cities & Knights, for half price too, down to £3.77 from its usual RRP of £5.39.
Joining Catan is another family board game favourite: Carcassonne. The charming game about laying down tiles to create a French countryside and claim it with meeples - who take on the roles of thieves, farmers and knights - is 50% off on Switch at the moment. Pick it up for just £8.99, slashed from the normal price of £17.99.
As well as the direct adaptations of Catan and Carcassonne are two online board games that don't stick as closely to their tabletop counterparts, but still bring two of the most popular games of recent years to the small (and bigger) screen on Switch.
The Lord of the Rings: Adventure Card Game - an adaptation of Fantasy Flight Games' Lord of the Rings living card game - is half price, dropping from £17.99 to £8.99. While not exactly the same as The Lord of the Rings: The Card Game, the app similarly sees the player embark on a quest to defeat evil and explore Middle-earth using a deck of cards representing their own fellowship of heroes, items and abilities.
Get up to 50% off a selection of our Nintendo Switch titles this week only.
Catan: https://t.co/0g0LucyBow
Carcassonne: https://t.co/lHaJe8DakX
Munchkin: https://t.co/NXqYGOnISz
Be sure not to miss out! pic.twitter.com/kdMTuLhx5u

— Asmodee Digital (@AsmodeeDigital) April 11, 2020
The last game in the sale is Munchkin: Quacked Quest, which has been reduced from £22.49 to £13.49 - a saving of 40%. Based on Steve Jackson's hit party board game, Quacked Quest is a solo and multiplayer game that sees players compete to gather the most loot and defeat the most baddies, working together only as much as they have to in order to survive.
The Asmodee Digital sale on Nintendo Switch will run until April 19th on the Nintendo eShop store.
Asmodee Digital is also currently running a sale on its digital titles on Xbox Live, with Ticket to Ride and Munchkin: Quacked Quest both discounted.