Forgotten Waters, the next Crossroads board game from Dead of Winter creators, gets a full reveal and gameplay trailer
A pirate's life for thee.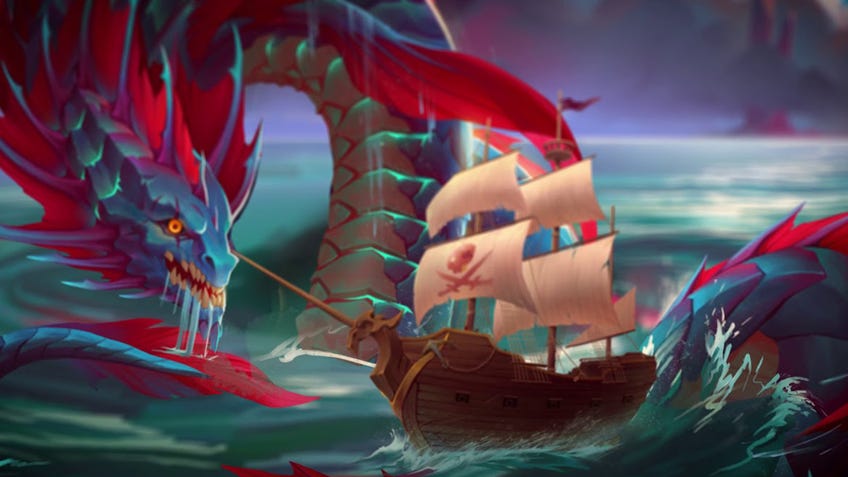 Explore the oceans as a pirate in search of fame and fortune in the next Crossroads board game Forgotten Waters, created by the team behind Dead of Winter.
A board game for three to seven players, Forgotten Waters has players forming a pirate crew and sailing their own ship on the hunt for booty. Despite Forgotten Waters having elements of a co-op board game, players are nevertheless encouraged to pursue their own goals - even if it means stealing from fellow pirates.
Originally teased earlier this month, Forgotten Waters has now been granted a full reveal and a first trailer showing off the board game's gameplay, including its use of a scenario book and players' ability to personalise their characters.
At the beginning of the game, players will be able to create their very own pirate with a customisable backstory, individual ambitions and unique traits that will drive their decisions. As players improve their various pirating skills they'll be able to encounter special events unique to their character, eventually aiming for the best ending possible for their character.
It's not all about the individual, as players will need to work together to manage things like crew discontent, ship supplies and general hunger - neglect these elements too much and one pirate might find themselves walking the plank.
Forgotten Waters is played through a series of different scenarios based around gaining infamy and treasure. Each scenario can be selected through the game's mobile companion app, which can track the various events and objectives players will encounter during the scenario.
The app will also present a variety of Crossroads events during certain scenarios, that will force players to make a crucial decision that could have far reaching consequences - make the right decision and a player could become a legendary pirate, make the wrong one and all could be lost.
Forgotten Waters is the third game in the Crossroads series, which began with popular zombie horror board game Dead of Winter. 2018's Gen7, a sci-fi game set aboard a drifting spaceship, was the second Crossroads game. The Crossroads term refers to the game's use of the branching story decisions.
Dead of Winter co-creator Isaac Vega co-designed Forgotten Waters alongside Mr. Bistro and Arthur Ellis, who worked on Dead of Winter card game spin-off Raxxon.
The publisher for Forgotten Waters is Plaid Hat Games, a company responsible for creating such adventure board games as Stuffed Fables and Mice and Mystics - one of the best board games currently available.
Forgotten Waters is set to release on April 10th for $59.95 (£47).