Indie RPG bundle includes Thousand Year Old Vampire, Troika and games from Spire and Wanderhome creators for under a tenner
Saving nearly 90% on their usual combined cost.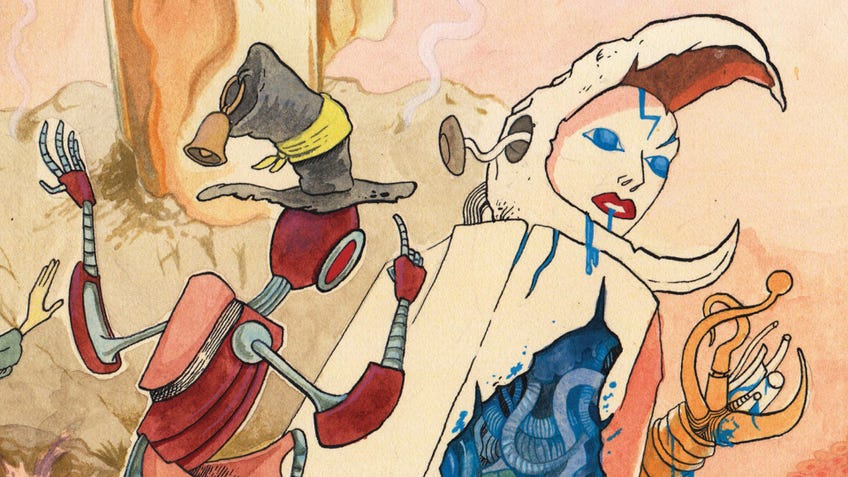 A collection of indie tabletop RPGs on Itch.io is currently offering a selection of acclaimed games for a fraction of their usual price.
The Tabletop Itch.io Selects Bundle includes one of this year's acclaimed RPGs, Tim Hutchings' solo journaling game Thousand Year Vampire, which scooped three awards at this year's ENnie Awards - including the top prize for Best Rules and second place in the Product of the Year category.
Similarly lauded is 'science-fantasy' RPG Troika (pictured), appearing in the bundle in the form of its Numinous Edition. The game features beginner-friendly rules and a flexible character and spell system set within its world.
The previous game from Jay Dragon, designer of recent Kickstarter success Wanderhome, also joins the bundle. Horror RPG Sleepaway puts players in the shoes of summer camp counsellors who must deal with the trauma of a shapeshifting being known as the Lindworm.
Goblin Quest, the comic RPG where players control multiple of the classic fantasy creatures as they meet their maker in various ways, is game number four in the collection. Created by Grant Howitt - co-creator of dark fantasy RPGs Spire and Heart: The City Beneath, as well as light RPGs Honey Heist, Jason Statham's Big Vacation and Reverse Beastmaster - the RPG includes a number of variants, including one in which the goblins are swapped for a quintet of infamously ill-fated actor Sean Bean.
Powered by the Apocalypse game Armour Astir combines high fantasy with the futuristic tech of mechs, as players control towering suits of armour as they rebel against an oppressive regime. The RPG is currently in development, with its latest set of rules - and future editions - included in the bundle.
Completing the collection is Down and Out in Dredgeburg, a dark RPG set in the strange titular city that offers a self-professed "spicy take on roleplaying". With a simple set of rules based on the World of Dungeons system and classes that include the likes of The Gore and The Dreg, it's said to be a more punk take on roleplaying.
The Tabletop Itch.io Selects Bundle gets you DRM-free digital copies of all six of the RPGs for $9, knocking almost 90% off their usual combined cost of $84. The deal is available until at 10am PT this Friday, September 11th.