Get Wanderhome, Thirsty Sword Lesbians and over 500 RPGs for just $5 to support trans rights in Florida
TTRPGs for Trans Rights in Florida bundle has already raised over $40,000.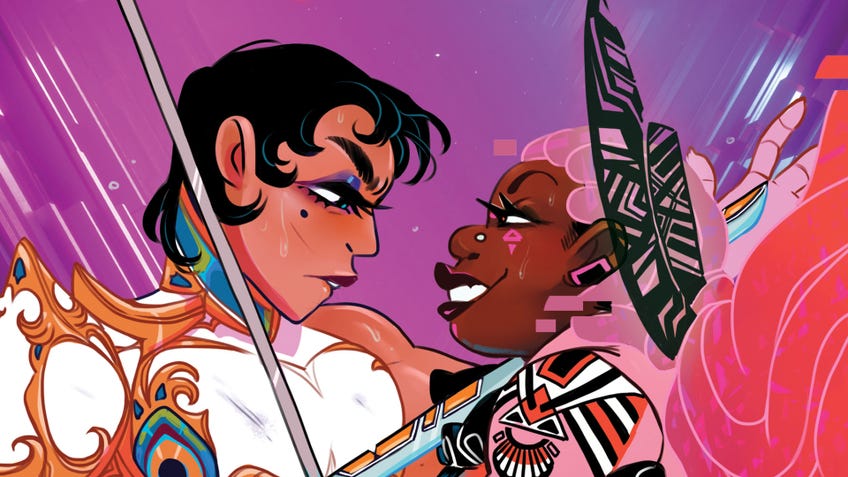 A new bundle of tabletop RPGs is offering hundreds of games - including some of the most acclaimed titles of recent years - for just $5 in order to support trans rights in Florida.
The TTRPGs for Trans Rights in Florida bundle hosted by indie designer Rue is headlined by some big names such as Jay Dragon's chill, GM-less animal adventure game Wanderhome and April Kit Walsh's delightful Thirsty Sword Lesbians, which won last year's Nebula Award for Best Game Writing - the first tabletop game to do so - and was named Best Game at the 2022 ENnies. (Several playbooks for Thirsty Sword Lesbians are also included in the bundle.)
Other notable names included in the collection of more than 500 tabletop RPGs - said to be worth a combined $2,000 - is Southeast Asian-inspired fantasy martial arts game Gubat Banwa and recent gunslinging weird west RPG We Deal in Lead.
There are a number of games by trans creators and about trans characters among the list, such as Claire Mulkerin's cleverly-titled futuristic sky pirate adventure Transatlantis and Moss Bosch's powerful This Party Sucks, which explores the experience of a trans twentysomething as they process a recent breakup. "It's simple, and it's beautiful," wrote Nevyn, naming it as one of the Queer RPGs everyone should play.
Also peppered among the many games are plenty of entertainingly quirky experiences, such as the does-what-it-says-on-the-tin horse RPG You Are A Horse, the family-friendly Jumanji-but-with-animals RPG Shrewmanji and If It Hadn't Been For Cotton Eyed Joe, a revenge story inspired by the infectious Rednex song.
As well as standalone games, adventures and supplements spanning the width and breadth of indie roleplaying, there are some other tabletop RPG treats in here too, including issues of tabletop magazine Wyrd Science and collections of NPCs, items and other bits to use in your games.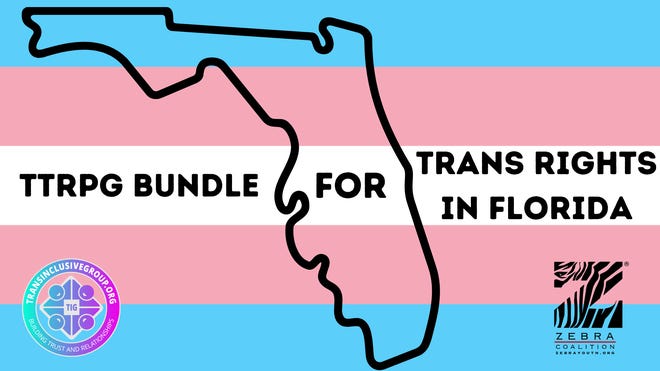 Those who donate $10 via the TTRPGs for Trans Rights in Florida bundle page on Itch can also grab a copy of D&D 5E supplement Monsters of Murka: Chromatic Gamut, designed entirely by Queer creators.
The bundle's support for LGBTQ+ network Zebra Youth and Florida-based transgender nonprofit the Transinclusive Group follows the state's ban on gender-affirming healthcare last month, the recent restriction of LGBTQ+ education and discussion in schools - known as the 'Don't Say Gay' bill - and the passing of laws last summer that stop transgender youth from taking part in school and college sports.
Made up of several connected organisations, Zebra Youth works to provide LGBTQ+ youth faced with homelessness and abuse with support and recovery programmes. The Transinclusive Group, meanwhile, looks to direct combat discrimination and a lack of societal support surrounding transgender people, particularly trans people of colour, by providing services such as support groups, community relationship-building and crisis assistance.
The TTRPGs for Trans Rights in Florida bundle has already raised more than $40,000 at the time of writing, less than a day after its launch. The bundle will run until April 7th.