Descent: Legends of the Dark releases next year with a companion app, 3D terrain - and $175 price tag
Not a third edition of Journeys in the Dark, Fantasy Flight confirms.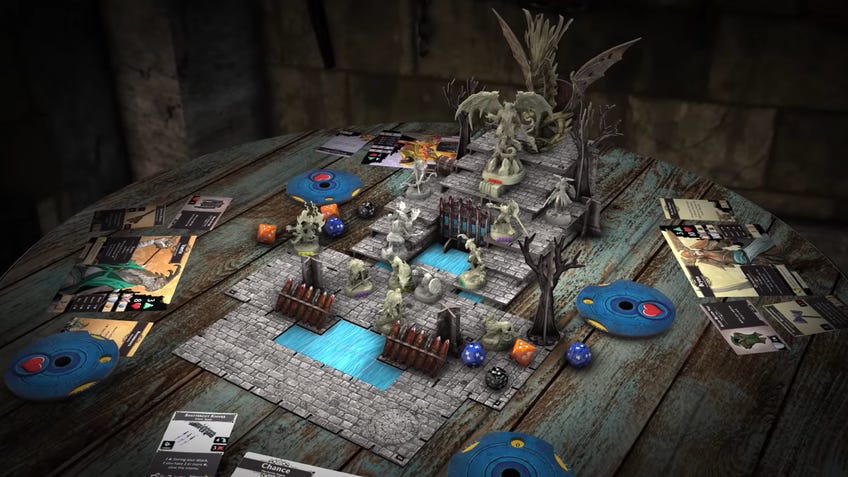 Descent: Legends of the Dark has been revealed as an app-powered dungeon-crawler with dozens of miniatures and HeroQuest-style 3D terrain in its chunky box - and a hefty price tag to match.
The latest entry in the fantasy series was leaked as the successor to much-loved game Descent: Journeys in the Dark earlier this year, before its box and cover artwork were teased by publisher Fantasy Flight Games during Gen Con Online over the summer.
The game's full announcement reveals it to be a co-op dungeon-crawling game for one to four people, powered by a companion app in a similar format to Mansions of Madness 2E and Lord of the Rings: Journeys in Middle-earth. An optional companion app, Road to Legend, was previously launched for Journeys in the Dark, replacing its human overlord player, but Legends of the Dark's app will be required to play the fully cooperative game.
The core game will include a 16-mission campaign set in Descent's fantasy setting of Terrinoth called Blood and Flame. Each chapter will feature differing objectives, but will see the players face enemies in combat, from bandits and barbarians to undead, wights and golems. The enemies' behaviour will be controlled by the app, with unique strategies for each type of enemy and the ability to adapt to the players' actions during an encounter.
Between quests, players will be able to visit the city to purchase new equipment, upgrade existing items and craft new weapons using materials, recipes and gold acquired during dungeon crawls. All of the weapons in the game can be upgraded, with players able to gain a chance of inflicting bonus damage and effects when attacking based on their arm's secondary abilities - all of which is handled by the app.
Players begin the game with two weapon cards that are placed back-to-back in a clear card sleeve - included in the box - that form their attack card. In combat, players roll a die based on their character's hero sheet, while damage and other effects are determined by the weapon used. The weapon will gradually gain fatigue, needing to be readied and flipped over to clear the card and continue to be used.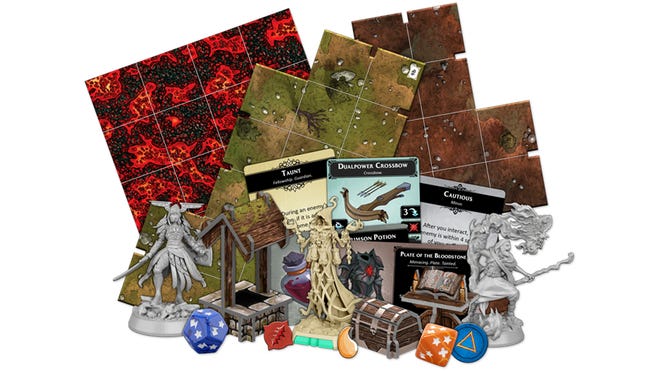 Legends of the Dark's gameplay is said to have been completely redesigned from Journeys of Dark. Players have three actions each turn, allowing them to move, attack and explore by interacting with locations and objects in the app, as well as 'ready' by flipping over their hero sheet or a card to the opposite side, enabling entirely new skills and abilities.
The base set will include six heroes with unique skills and abilities, which can be further customised with weapon and equipment loadouts, upgrades and other options. As players progress through the campaign, experience points can be spent to unlock new skills, while completing a hero's personal feats can lead to further unlocks including abilities and recipes exclusive to that character. Skills can be changed at the beginning of each new quest, allowing players to freely respec and swap to different play styles throughout a campaign.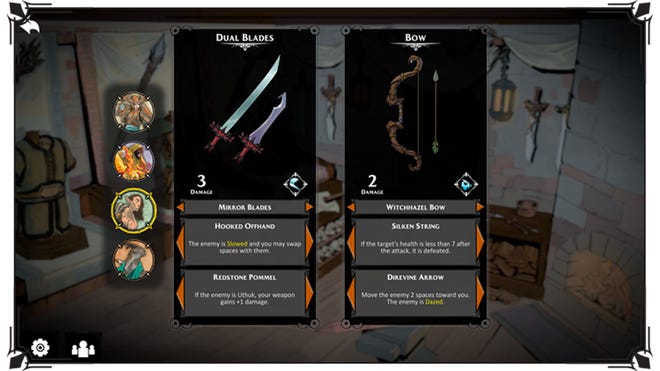 As well as 40 miniatures to represent the players' heroes and the monsters they will encounter, the Legends of the Dark box will include 46 pieces of 3D terrain. The terrain and map tiles will be used to create environments with multiple vertical levels, with players able to interact with 3D objects such as doors, trees, bookshelves, treasure chests and staircases via the companion app. Players will reveal and place tiles and scenery as they explore each map.
As part of the announcement, Fantasy Flight confirmed that Legends of the Dark is not a third edition of Journeys in the Dark, and will not be compatible with any of the content from the 2012 second edition.
Descent: Legends of the Dark is planned for release in Q2 2021, priced at $174.95 (£133). The core game's Blood and Flame campaign is said to be the first act in a three-part story. The second and third acts - which Fantasy Flight described as each being similarly full-length campaigns - will be released as expansions in the future, with no word on release dates or prices for the upcoming expansions yet.