Gloomhaven is currently the cheapest it's ever been on Amazon US
Machi Koro, Kingdomino, Forbidden Island and the Exit series also on sale.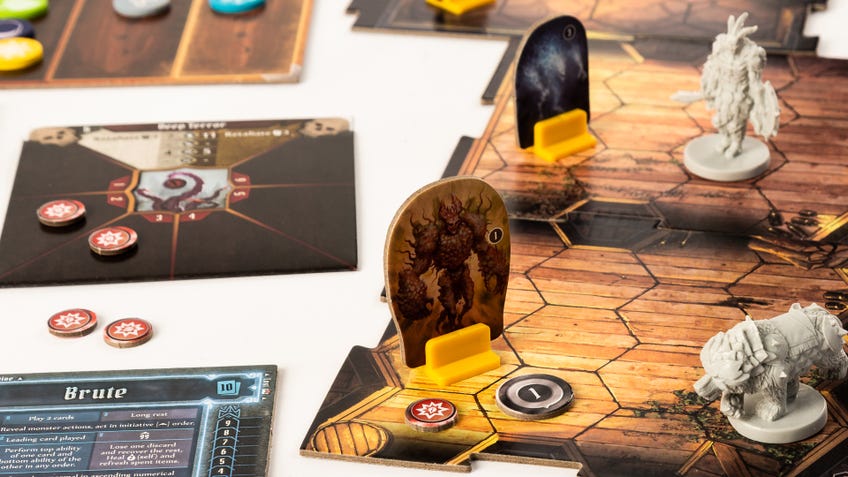 Massive RPG-in-a-box Gloomhaven - one of the most widely acclaimed board game releases of recent years - is currently the lowest price it's ever been on Amazon US.
Released in 2017, Gloomhaven is an epic fantasy board game by designer Isaac Childres. Set in and around the titular city, it sees a party of adventurers - that's the players - explore the world and complete dozens of unique scenarios across a campaign spanning tens of hours.
Gloomhaven's gameplay blends together the branching story, permanent changes and dynamic world of a legacy game (down to tearing up cards and applying stickers to the board) with the strategic decision-making of its card-driven dungeon-crawling combat, which sees players managing their character's unique deck of abilities to defeat monsters and collect treasure.
As players get further in the campaign, their characters will level up, gaining new powers and developing their story - much like a tabletop RPG such as Dungeons & Dragons - before eventually retiring and unlocking new characters and secrets stashed away in the hefty box's many secret packages.
Gloomhaven has been acclaimed as one of the best board games ever made since it first hit tables, overtaking the similarly beloved Pandemic Legacy as it zoomed to the top of BoardGameGeek's hallowed rankings. It's since been followed by a prequel, worker-placement game Founders of Gloomhaven, as well as beginner-friendly spin-off Gloomhaven: Jaws of the Lion and upcoming sequel Frosthaven. Not to mention a comic book series, novel and PC game.
Gloomhaven is currently available for $85 on Amazon US - 39% less than its $140 RRP and the cheapest it's ever been from the online retailer, according to price tracking site CamelCamelCamel. The previous lowest price for a new copy from Amazon itself was $86.50 last November. The discount is a daily offer, although Amazon has various other Black Friday board game deals currently live ahead of the annual sales event.
Joining Gloomhaven in the daily deals is popular dice game Machi Koro, which is almost half price at $16.75, and Forbidden Island and Forbidden Sky, the first and third instalments in the family-friendly co-op trilogy from Pandemic creator Matt Leacock. Island is 22% off at $13.95, while Sky sees a bigger cut of 41% from $19.99 to $11.75.
Other board games currently slashed in price include: