Spider-Man anti-hero, Venom, merges with Marvel Champions: The Card Game
Sympathetic symbiote.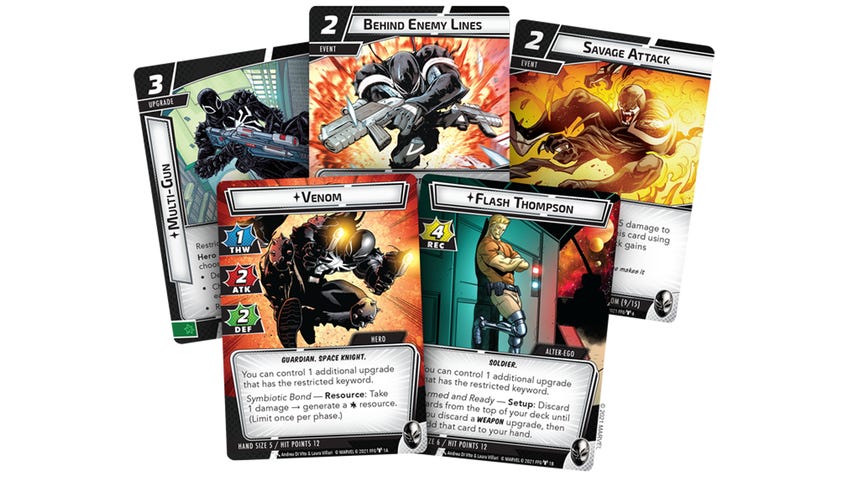 Venom, the intergalactic rival to Spider-Man, is attaching itself to the living card game Marvel Champions this summer.
Originally introduced as a villain in The Amazing Spider-Man comics released during the 1980s, Venom is a symbiotic entity who is capable of joining with another person and imbuing them with a unique set of powers. Besides appearances in various Marvel comics, Venom has also featured in several films - including a self-titled 2018 movie starring Tom hardy and it's upcoming sequel Venom: Let There be Carnage - and video games, such as the Marvel Vs Capcom fighting series and the Marvel: Ultimate Alliance franchise.
Since its first introduction in the comics, Venom has shifted its allegiances and is now considered an anti-hero of sorts, merging with Flash Thompson to become Agent Venom - a superhero who travels the galaxy in search of rights to wrong. This more heroic version of the character is the focus of the Venom Hero Pack for Marvel Champions, with players taking control of both the symbiote and Thompson.
As Venom, players will be able to equip an additional upgrade - including those with the restricted keyword - and take damage to create more resources, thereby powering up the character beyond what would otherwise be possible. These resources can then be used alongside cards like Locked and Loaded, as well as Run and Gun, in order to allow Venom to use several weapons multiple times in a single turn.
Venom's alter-ego, Flash Thompson, allows the player to search their character deck for a weapon upgrade during the set-up phase, before adding it to their hand. This combined with Venom's ability to acquire and use various resources, can make for a character capable of carrying out some powerful combos on enemies - which may even include Venom itself, as the Enraged Symbiote version the character is also included in the Hero Pack.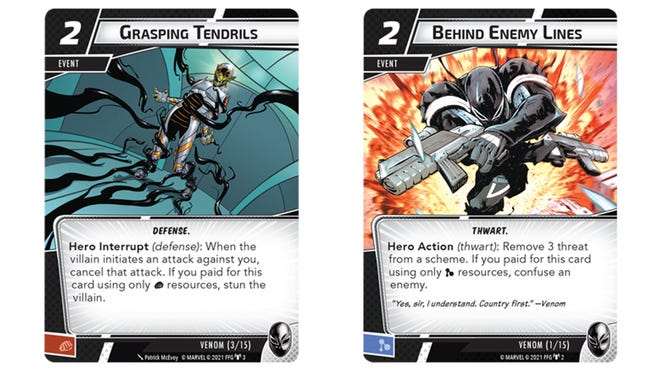 Marvel Champions is a co-op card game that sees players working together as iconic superheroes to protect the world against the schemes of various villains, such as the Red Skull and Ultron. Players choose a character to control, gaining access to a deck of cards as well as both the hero and alter-ego version of character. Cards can be used to perform attacks on enemy minions - as well as the main antagonist - alongside empowering the heroes and their allies. Players win if they successfully stop the villain's scheme or defeat them in time.
Fantasy Flight Games is the studio behind Marvel Champions and the upcoming Venom Hero Pack, alongside the Arkham Horror Files series and unique deck game, Keyforge.
The Venom Hero Pack is set to be released in July at a retail price of $14.95 (£10).