Pikachu in a poncho is Pokémon collectors' favourite new obsession, as card prices rocket
"I've never seen anything like it."
Pokémon card collectors are spending thousands of dollars on cards featuring series mascot Pikachu dressed in adorable ponchos, joining an ongoing boom in demand for the rarest Pokémon cards.
The Pikachu Poncho cards were originally released as promo cards during the Pokémon X&Y and Sun & Moon sets. The first versions of the cards - officially titled "Poncho-wearing Pikachu" - depicted the electric mouse dressed up as Mega Charizard, and were released in late 2014 as part of a promotion for the relocation of the Tokyo Pokémon Center store.
Later cards in the series continued Pikachu's fondness for dressing up, showing the Pokémon dressed as 'Mega' variants of Pokémon such as Lucario, Slowbro and Rayquaza, as well as first-generation Pokémon including a 'pretend' Magikarp and Gyarados. Other Pokémon to get the poncho treatment were Pokémon Sun and Moon starter Rowlett, the standard Rayquaza, and more Mega Pokémon including Ampharos, Lopunny, Diancie, Mawile and Gallade.
The last Poncho-wearing Pikachu cards to be released were based on the Alolan appearances of Vulpix and Vulpix in Pokémon Sun & Moon, releasing in a fire and ice-themed box in early 2017.
The Poncho Pikachu cards were only ever released in Pokémon's home region of Japan, making them already more limited and desirable than many other Pokémon cards. On top of the short window during which they were available and the reportedly low numbers produced of some of the promo cards - with only a few hundred copies of some cards - the cards' playful artwork of the ever-popular Pikachu have helped make them a favourite among fans.
"The Poncho Pikachu are a great example of more recent popular sets to collect," said Kevin Aloe, category manager for Collectable Card Games at eBay UK. "Something unique and scarce and, above all, super cute."
The Poncho Pikachu cards have reportedly seen their demand explode during 2023, with prices rocketing from tens and hundreds of dollars a few years ago to thousands on the back of Pokémon's ongoing collecting boom.
"I remember going to comic cons and buying the sealed boxes with the ponchos in for like £30, £35 a box," recalled Sam Pantellerisco, founder of online Pokémon card trader Chibi Collectables. "There's sometimes two promos in there - and packs - so you're probably saying the cards are maybe £15 each.
"They were a good thing to buy. [But] they're now really heavily priced where some of the PSA 10s [cards graded at a top 'Gem Mint' condition by specialist PSA] are in the $4,000 to $6,000 range currently."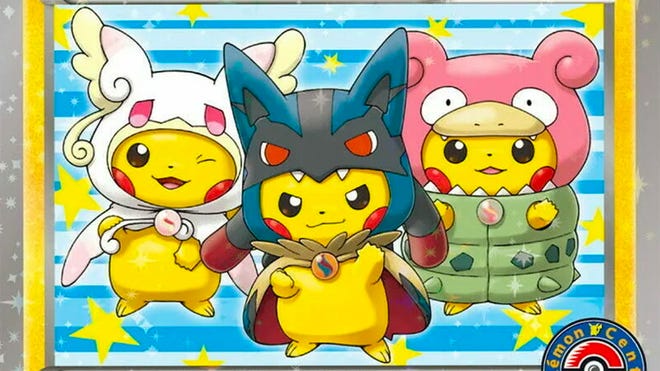 The Poncho Pikachu cards are often considered by collectors part of a wider set of Pikachu cards showing the beloved Pokémon dressed up as different characters and costumes. The set also includes promo cards released in 2016 that depict Pikachu cosplaying as Nintendo mascot Mario and his plumber brother Luigi, as well as other "Dress-Up Pikachu" cards.
"You have a couple others that kinda fall into the same category, they're like full-art Pikachus," Pantellerisco explained. "When you build this collection together, it's something that's significant in terms of value. It's also significant in terms of what Pokémon had done that they aren't probably ever going to do again.
"The thing with Ponchos is - and I think a lot of people forget - Pokémon's a hobby where you want to show off what you have. And one of the coolest sets you can probably own is a poncho set of the Pikachus."
The growing value of Poncho Pikachu joins wider demand for Pokémon cards this year, spurred in part by the official launch of Pokémon cards translated into Simplified Chinese last October, opening up the TCG to players in mainland China. The new audience has seen a number of other cards soar in popularity and value, accompanied by the recent 'Waifu Effect' that has seen cards featuring female characters leap in value.
"The Chinese market got heavily involved in Pokémon, and Pokémon kind of opened up to China," Pantellerisco said. "It just caused a mass kind of buy-in of a lot of different things. A lot of Japanese cards, a lot of stuff in PSA 10s - where, for example, the Poncho Pikachus skyrocketed, like doubled the price. There was a lot of female full-art trainers that 10x'd over a two-week period.
"The last six months has been crazy. I've never seen anything like it."