Star Trek Adventures Humble Bundle includes the RPG's starter set, supplements and TNG characters from under £1
Picard the bunch.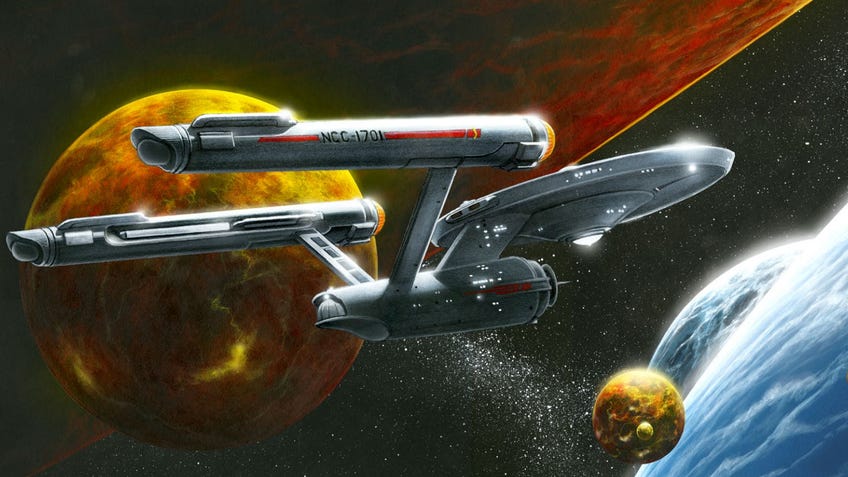 Pick up the Star Trek Adventures RPG and a number of its supplements, modules and accessories for as little as a pound in the latest RPG Humble Bundle.
79p will get you a downloadable PDF for the Star Trek Adventures: Starter Set, a jumping-off point for any players wishing to give the tabletop roleplaying game a try. That price will also unlock supplements that enable players to include characters from both the original series of Star Trek and The Next Generation, from Kirk and Spock to Riker and Picard, as well as the stats for each series' respective Starship Enterprise.
The next level of the Humble Bundle - available by paying £6.50 or more - includes the previous tier's content alongside the complete Star Trek Adventures core rulebook in PDF form, plus a voucher for 50% off a physical copy. In addition to the core rulebook, the tier unlocks two supplements, lore-focused book These Are the Voyages and scenario collection the Beta Quadrant Supplement, along with several more standalone adventures. There's also a code to unlock the original Deep Space 9 uniform and Elite Services Starter Pack in PC game MMO Star Trek Online.
For £12 or more, players can get their hands on everything already mentioned above, along with additional mission compendium Strange New Worlds and more supplements, including the Science and Command Division books. This tier also unlocks character sheets for making Star Trek Voyager and Deep Space Nine characters. On top of all this, players can get several more adventures and downloadable map tiles to use in their Star Trek Adventures sessions.
Published by Conan: Adventures in an Age Undreamed Of and Dishonored: The RPG studio Modiphius, Star Trek Adventures sees players exploring the various quadrants of Federation Space as Starfleet cadets or other such inhabitants of the universe.
A free Star Trek Adventures supplement based on the infamous Kobayashi Maru test was released earlier this month, giving players the opportunity to see if they can get themselves out of the seemingly impossible situation seen in The Wrath of Khan.
The Star Trek Adventures RPG Humble Bundle is live until August 19th. As with all Humble Bundles, you can name your price, with a portion of your money going toward charity.