Star Wars: Destiny to stop receiving organised play events or kits
Almost a year after the game was discontinued.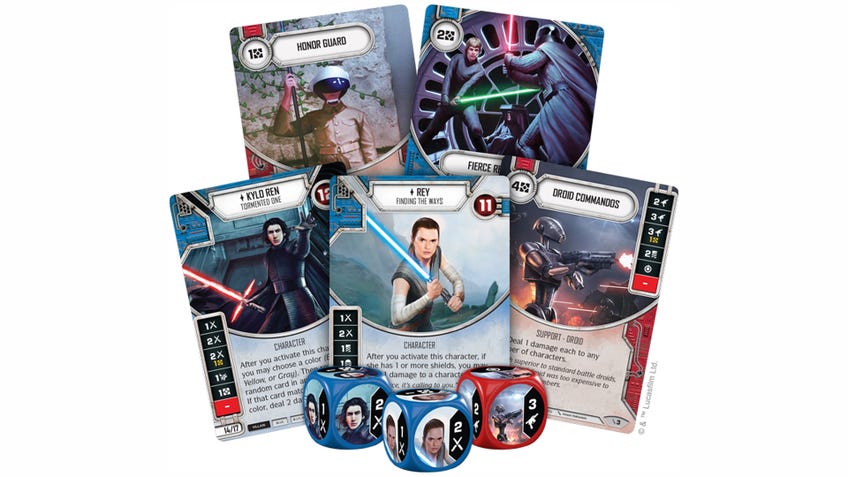 11 months after being discontinued, Star Wars: Destiny - a collectible card game adapted from the sci-fi film franchise - will no longer be receiving events or kits for organised play.
Announced in a tweet from Fantasy Flight Games's account for organised play, Star Wars: Destiny will not be seeing any more kits or events designed for organised play in the future. The text of the tweet referenced "the events of 2020", before continuing on to promise improvements in the coming year: "We will do all we can to make 2021 a better year."
The announcement follows last year's cancellation and postponement of several organised play events and tournaments for various games published by Fantasy Flight, including the 2020 World Championship for Destiny, due to dangers posed by the COVID-19 pandemic.
In light of the events of 2020, there will be no further OP kits or events for Star Wars Destiny.

— FFG Organized Play (@FFGOP) December 29, 2020
A final organised play kit called Echoes of Destiny was intended to launch alongside the planned tournament - containing content from the unreleased Wild Horizons set - but thanks to the indefinite postponement of the World Championship the kit was launched as a free print-and-play pack last summer.
In January 2020, Fantasy Flight revealed that it would be stopping all product support for Destiny from February of that year, leaving the Covert Missions booster set to be the last official set released for the Star Wars game.
Star Wars: Destiny is a two-player game that pits competitors against one another in a duel between two characters from the popular science fiction series. Using a combination of dice and cards, players each control either a character from the dark or light side of the force and attempt to defeat their opponent using their abilities and decks.
Besides Destiny, Fantasy Flight has also published several other Star Wars themed tabletop titles such as miniatures games Star Wars: X-Wing, Legion and Armada. Late last year, it was announced that all three miniatures Star Wars games would no longer be developed by Fantasy Flight - instead moving to Atomic Mass Games, the creator of Marvel: Crisis Protocol.
Fantasy Flight Games are yet to confirm whether it plans to hold any organised play events this year.