Star Wars: Unlimited joins Disney Lorcana in race to be the next Magic: The Gathering
Success can't be forced.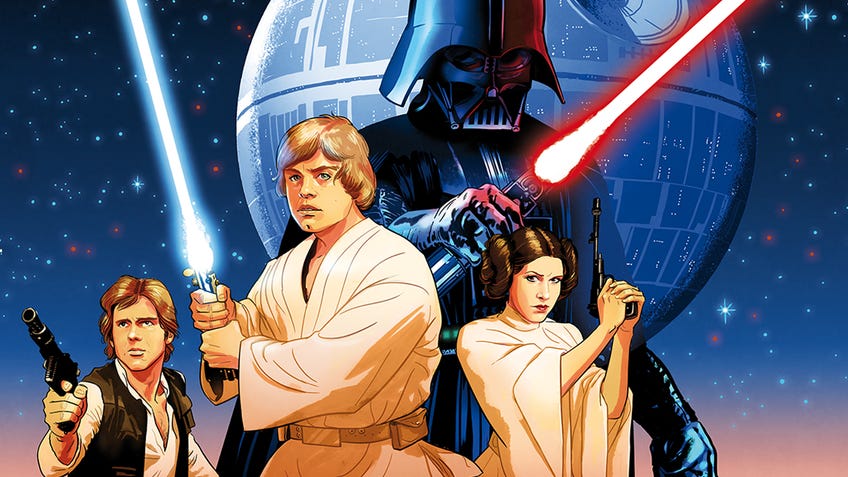 A new trading card game based on the Star Wars universe is coming from the studio behind Star Wars: Rebellion and Keyforge, Fantasy Flight Games.
Star Wars: Unlimited is an upcoming game that will feature "iconic heroes, villains, ships and settings" from the entire Star Wars universe – including movies, television series, comic books and video games.
According to its announcement, Unlimited will be an "accessible to all players" card game with "no gimmicks" that will receive three sets every year, with organised play events "from weekly store-level community experiences to worldwide large-scale events" intended to be ready from launch. The new trading card game will feature new artwork that will have a "cohesive style," and will include alternate cards and variants designed for collectors.
Wheels recommends five trading card games that aren't Magic: The Gathering.
Fantasy Flight Games has released several tabletop titles based on the Star Wars universe such as Star Wars: Rebellion, a miniatures board game that has players controlling units from either the Rebel Alliance or the Galactic Empire, and a skirmish game called Star Wars: Imperial Assault. Most notably, Fantasy Flight previously published a collectible card game inspired by the Star Wars universe in 2016 called Star Wars: Destiny, before cancelling the game at the beginning of 2020 for undisclosed reasons.
Unlimited will join Star Wars Rivals – a collectible tabletop game for two players – on store shelves, with Rivals set to be released next month. Rivals, which will be published by Funko Games, sees players using their decks containing three unique character cards to win location cards. According to Funko, Rivals will involve dice-rolling, with players able to pick from a variety of characters to embody from both the Light and Dark sides of the force.
Star Wars: Unlimited will follow the release of another licensed trading card game, Disney Lorcana, which is coming this August. Lorcana is a card game based on the universe of Disney, a company that currently owns the rights to Star Wars, with the cards depicting various characters and imagery from across Disney properties as warriors, mages and other alternate identities.
Watch on YouTube
Wheels shares a list of upcoming games to get excited for.
The rules for Lorcana see players, or Illumineers, attempting to collect 20 lore by playing character, items and action cards in order to complete quests and challenges. Players can summon cards, or Glimmers, by spending ink from their available pool, before sending them out on quests – thereby leaving them open to be challenged by their opponents' glimmers. The outcome of challenges is determined by comparing the strength and willpower stats between the opposing cards, with any damage given carrying over to future rounds.
Star Wars: Unlimited is set to be launched globally sometime in 2024, with details set to be released in the run-up to launch.