Star Wars: Unlimited TCG could include characters from video games, comic books and novels on top of the movies and TV shows
Anything from "modern Star Wars" is game, says maker Fantasy Flight.
We might see familiar faces from Star Wars video games appear in upcoming trading card game Star Wars: Unlimited in the future - as well as characters from across comics, novels and more - according to the TCG's publisher.
Star Wars: Unlimited is due to release next March as the latest (lightsaber) stab at turning the galaxy far, far away into a collectible card game. Drawing apparent gameplay inspiration from the likes of Magic: The Gathering's popular Commander format and defunct dice game Star Wars: Destiny, the game sees players fighting to destroy their opponents' bases by using their deck of characters and powers headed up by a leader, such as Luke, Leia or Darth Vader.
While Unlimited's first set, Spark of Rebellion, will focus on the Galactic Civil War period as seen in the original trilogy of movies, animated show Rebels and prequel film Rogue One, publisher Fantasy Flight Games has outlined plans for future sets that delve deeper into Star Wars lore. Second set Shadows of the Galaxy will follow in July 2024, with a third, Twilight of the Republic, next November, kickstarting plans to release three sets a year.
Fantasy Flight said that it is already working on the game's seventh set - due to release in its third year - with sets eight and nine in the concepting phase, taking the TCG through at least 2027. The studio added that Unlimited is being worked on by the "largest dedicated staff" team the publisher has ever committed to a single game.
While Fantasy Flight is yet to reveal what we might see beyond Spark of Rebellion, Unlimited will seemingly live up to its name with the ability to draw from anywhere across "modern Star Wars" - including any elements of the movies and TV shows, as well as spin-off media including recent video games, novels and comic books. In other words, the franchise's current canon. (Sorry, Kyle Katarn fans - the Jedi Knight hero dropped out of official lore when Disney ditched the Expanded Universe.)
Davide Bonati, VP of global hobby sales for Fantasy Flight parent company Asmodee, told Dicebreaker that the game's first three sets releasing in 2024 would focus on the parts of Star Wars familiar to most fans.
"With the first three expansion sets, we try to target a very different customer base, Star Wars customer base," Bonati said. "Clearly when we decided to do the first one [Spark of Rebellion], going for the original trilogy was the easiest one, okay? And the iconic characters of Luke and Vader are too strong and too popular to not go in that direction."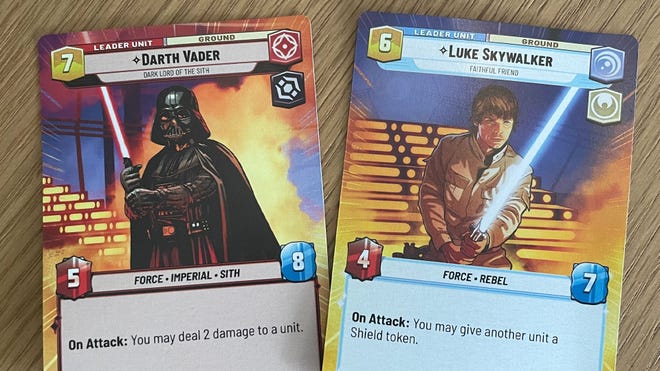 After that, though, Bonati confirmed that future Unlimited releases might dive deeper into specific parts of the universe - whether that's new time periods or certain locations.
"For the future, we don't want it to remain too much connected to a single [Star Wars] product," Bonati said. "We like the idea that we have this opportunity to be more flexible and take a bit from everything. Maybe working much more on geographical areas of Star Wars and stuff like that. We literally have access to an unlimited number of resources.
"It means that there will be not only movie-based characters or not only TV series-based characters. There will also be comics, also video games, also other areas. 100%."
With Star Wars' modern output veering from video games such as this year's Jedi: Survivor to comics including Star Wars: Vader and even audiobooks, there's no shortage of inspiration. Bonati said that Unlimited's own comic book-inspired art style had been crafted to provide a way of unifying the many different visions of Star Wars in a natural way.
"That was super important because that was also the reason we decided to have an art style that is unique in the industry," Bonati explained. "This reminds me of the first comic books of Star Wars that were a great success back in the day. We tried to recreate this kind of artwork, but also have the flexibility to have something more modern or something more connected."
Bonati added that Fantasy Flight has the ability to propose its own takes on the series to Lucasfilm, allowing it to bring in ideas from different series in keeping with the TCG's style.
"This gave us the flexibility to do whatever we want in every area that we want. We need only to have a strong art style," Bonati enthused. "That was very important."
Whether that means Unlimited might eventually see original imaginative takes on familiar Star Wars characters - in the same way that Disney Lorcana reimagines characters such as Mickey Mouse, Belle and Goofy as fantasy rogues, techhy engineers and daredevils - Bonati stayed largely shtum, but hinted that will well be the case.
"I think it's a bit early to talk about," Bonati replied. "But, definitely, we want to provide to all the Star Wars fans and TCG/Unlimited fans the product that they want to be excited about."