Star Wars TCG Unlimited already has its first nine sets planned, with releases due through 2027
Fantasy Flight says its biggest team ever is working on the upcoming trading card game, but promises that won't affect development of its other games.
Upcoming trading card game Star Wars: Unlimited already has its first nine sets planned, laying out releases and support for the TCG for at least its first three years.
Unlimited, Fantasy Flight Games' transformation of the sci-fi behemoth into a collectible card game spanning every era of modern Star Wars, is due to release its first set Spark of Rebellion next March. The debut set will focus on the Galactic Civil War period seen in the original trilogy of movies, as well as prequel film Rogue One and animated series Rebels.
Following that, second set Shadows of the Galaxy will arrive in July 2024, ahead of third expansion Twilight of the Republic next November. The sets will mark the beginning of a regular cycle of releases outlined by Fantasy Flight, which plans to launch three sets each year to supplement the TCG.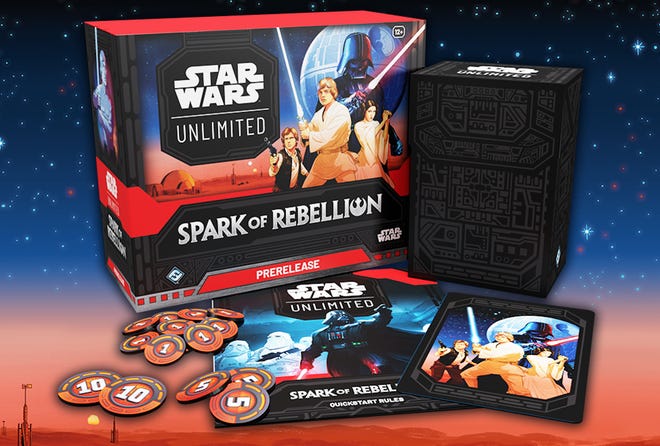 While only the first three sets have been announced so far - the three 2025 sets are yet to be named or have their respective places in the lore detailed - Fantasy Flight has already completed development of the game's first six sets, with the publisher saying it has regular Star Wars: Unlimited releases planned through 2027.
"For us it was important to show to everybody our level of commitment," Davide Bonati, VP of global hobby sales for Fantasy Flight owner Asmodee, told Dicebreaker. "The fact that we are working on expansion number seven and the first six are already gone; four, five and six, if I remember, are in an approval phase. Seven is what they are working on today. But there are another two teams that are already starting to work on a concept for expansion number eight and expansion number nine."
Bonati added that Unlimited is being worked on by the largest team Fantasy Flight has ever focused on a single game. The TCG's team marks a change in approach from the studio's living card games such as Arkham Horror: The Card Game and Lord of the Rings: TCG, with three teams working in unison across Unlimited's gameplay, artwork and development.
"This is the biggest team that Fantasy Flight have ever had in terms of developing a game," Bonati confirmed. "[For a] living card game, normally they have one team that are working on a project and working on mechanics of the games. And when it's ready, they present the product to another team that is in charge of, for example, putting art and stuff like that. And they get back and start working on the next one. [With Unlimited] we have three teams that are doing the same thing at the same time."
While Unlimited marks a notable shift for Fantasy Flight away from its living card game format - which releases larger expansions with identical cards in every box, rather than smaller randomised booster packs - Bonati promised that the TCG's release wouldn't result in the studio reducing its LCG output.
"Fantasy Flight will continue developing other games without any problem," Bonati said. "They are two different teams. The team is not moving from one project to another. The team that is here [on Unlimited] will stay here, and the team that is developing other games will stay on other games.
"The idea is that we are not moving away from the living card game. We will continue to develop them. We only believe that these are two different kinds of product; with a product like a TCG, you have the opportunity to have a higher level of commitment and engagement with your community. And this is what we are looking for."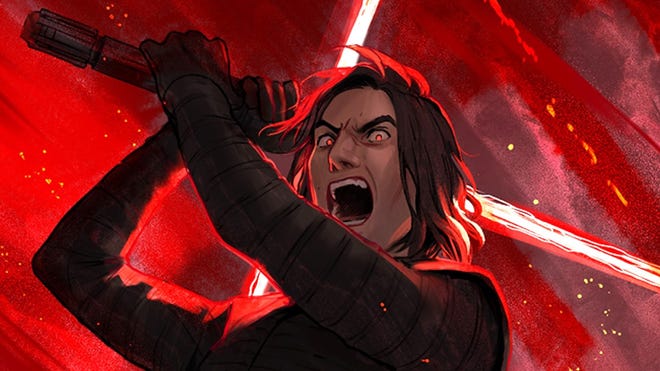 Bonati added that the plans for Unlimited's first three years of releases aimed to show those potentially soured by the cancellation of its previous collectible games, including Star Wars: Destiny, that it was committed to longer-term ongoing support for the upcoming card game.
"We needed to show to the market that we are able to do a good TCG and this is our level of commitment on the TCG side," Bonati said. "At the same time, we do good LCGs and we will continue to do that.
"Jim [Cartwright], the VP of product development [for Fantasy Flight], was pretty clear and honest in saying, 'Guys, we made some errors in the past.' There is nothing that we needed to deny or stuff like that. Part of the message that we wanted to transfer with this game is that we are having an approach to this game that we never had before. We have learned from the errors that we [made] and building this to go in a completely different direction.
"The other important part of the message is: I don't want to just go out and tell this. I want us to go out and show that we are different. [...] We want to show that it is a different level of engagement that we have with this product compared to the products that we had in the past."