Play Pathfinder's sci-fi sibling RPG, Starfinder, for less than $5
Blast off with this bundle.
Starfinder, the science-fiction version of tabletop roleplaying game Pathfinder, is available to play at less than $5.
The sci-fi tabletop RPG is featured as part of a Humble Bundle intended to help raise money for The Trevor Project, a suicide prevention and crisis intervention charity for lesbian, gay, bisexual, transgender, queer and questioning (LGBTQ) young people. Every purchase of the bundle – regardless of which tier – will ensure that a portion of the profits are donated to The Trevor Project.
Starfinder is a tabletop roleplaying game published by Paizo and set in a universe in which interplanetary travel is possible, whilst also including the existence of magic and atypical fantasy species. In the game, players will be able to create their own characters from a roster of different playable species, including elves and lizard humanoids called Vesks, as well as given them specific abilities like gunslinging and magic. Players will be able to pursue various adventures through set paths that will take them across the galaxy to various solar systems and spaceships.
Johnny and Wheels recommend ten tabletop roleplaying games that aren't D&D.
For less than $5 (£4), players will be able to get their hands on a digital version of the core rulebook for Starfinder, which will give them and game masters everything they need to either run their own games or play them. On top of the core rulebook, the first tier contains the Alien Archive book which features a rogue's gallery of various extra-terrestrials – some friendly, some less-than-friendly – for players to encounter in the adventures throughout the galaxy.
Contained within tier one is the first part of a Starfinder Adventure Path called Fly Free or Die, that has players becoming the crew of a blue-collar cargo ship that finds themselves on an epic journey involving mob bosses and mega-corporations. As well as the Adventure Path, the first tier features a digital version of the Starfinder Beginner Box and a collection of tools designed to help players make characters and play the roleplaying game for the first time.
The second tier – which costs £12 ($15) - contains all of the above on top of a PDF of the Starfinder Alien Archive 2 book and various tools designed for the GM, such as digital maps and pawns. Additional Adventure Paths have been included in tier two of this bundle such as the second part and third parts of Fly Free or Die, as well as a one-off adventure containing futuristic racing called Redshift Rally.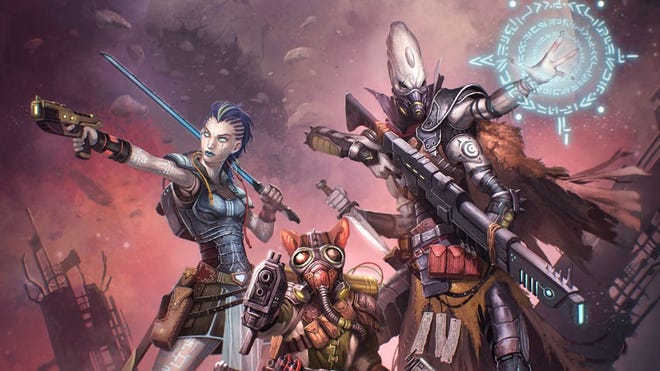 For £20 ($25), players can unlock everything previously mentioned in the Humble Bundle, alongside Alien Archive 3 and the Starship Operations Manual, which contains rules designed for spaceship customisation in the tabletop RPG. Parts four, five and six of Fly Free or Die are included in this tier, on top of a sourcebook about the Pact Worlds, home of Veskarium and other planets.
The last tier costs £36 ($45) and features all of the above with two physical additions – a hardcover copy of the Alien Archive book two and a Starfinder Critical Hit deck, which features various extra bonus effects to give to any critical attacks your character may perform.
The Starfinder Solidarity Humble Bundle ends on May 22nd.