Online features for Terraforming Mars iOS and Android app suspended
After development tools were made available to players.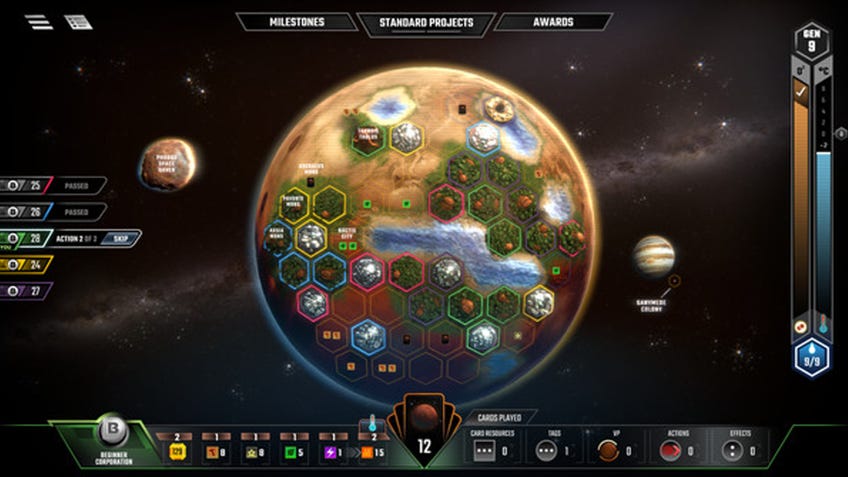 The Terraforming Mars iOS and Android app has had its online servers unexpectedly suspended by its developer and publisher, Asmodee Digital.
In a tweet from the studio's official Twitter account, it was confirmed that the online features for the digital board game app had been suspended. The reasons for the suspension are as of yet unclear.
Terraforming Mars online servers on iOS and Android are currently suspended.
We are doing our utmost to be back online shortly.
We're very sorry for the inconvenience caused.
Thank you for your patience!

— Asmodee Digital (@AsmodeeDigital) March 16, 2021
One reply to the tweet referenced a previous announcement from the company - which has since been deleted - stating that the servers had been "suspended indefinitely", whilst another reply claimed that Asmodee Digital had "published a beta update on the app store" by mistake. In a thread on a Reddit post by TANSTAAFL42 discussing the recent suspension, another user - skipperxc - commented that "the current version of the app has a bunch of dev tools available".
Asmodee Digital has not yet confirmed whether either of these claims are correct.
The digital version of Terraforming Mars - which is also available on PC - sees one to five players competing against each other as rival corporations attempting to establish the most prestigious colony on the red planet. As in the original tabletop game, Terraforming Mars enables players to choose between a selection of different corporations, each with their own unique abilities - and purchase cards using a budget of credits.
Throughout the game, players use their cards to complete projects in order to gain victory points, resources, improve their production and even more, with the aim of having the most total points by the end of the game. Boosting their terraforming rating can increase the amount of funding players get at the end of each generation - or round - as well as add to their overall score. When all the parameters for terraforming Mars have been met, the game finishes and players compare their point totals.
Besides Terraforming Mars, Asmodee Digital is also known for releasing other digital adaptations of popular board games such as co-op game Pandemic, the dungeon-crawling title Gloomhaven, Scythe and the beloved family board game Ticket to Ride.
Asmodee Digital is a subsidiary of the larger Asmodee publishing company, which recently acquired the online tabletop website BoardGameArena. Originally founded in 2010, the site enables players to experience digital versions of more than 260 titles with their friends or random challengers online. According to Asmodee, BoardGameArena will continue to operate independently, with more games from the studio - including 7 Wonders and Carcassonne - to arrive on the platform soon.
It has not yet been confirmed when players can expect the online servers for Terraforming Mars to become unsuspended.