Snag a double handful of Black Library novels for less that £1 in new Humble Bundle
Probably more than 40,000 words.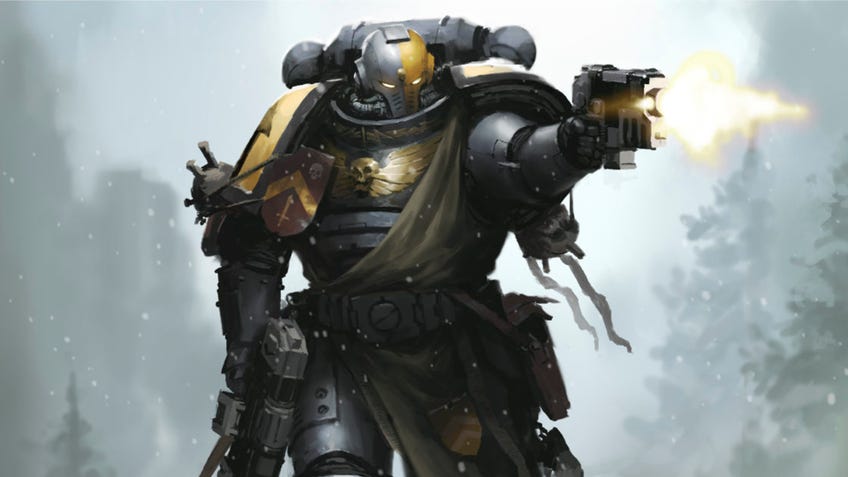 A selection of digital tomes from the Black Library's trove of Warhammer 40,000 stories is now available in a Humble Bundle, with proceeds benefiting the EveryLibrary Institute.
The Warhammer 40,000 Stories 2021 Humble eBook Bundle gives fans of Games Workshop's science fiction-themed miniatures wargame a chance to pick up over 25 digital books from various authors, DRM free.
73p ($1) will unlock access to the first tier, which includes titles such as Fifteen Hours - a gruesome report of a 17-year-old Imperial soldier's first, and perhaps last, deployment - and Choose Your Enemies, a volume of Ciaphas Cane's story dealing with cultists, a mining world under threat and plots aplenty. We named another Ciaphas Cane book from author Sandy Mitchell as one of the best Black Library books on offer.
For those with more empty slots on their shelves to fill, £7 ($10) provides access to another eight books that focus on some non-Space Marine parts of the massive universe. Along with the first tier, readers can explore the revenge-soaked Blood Reaver and its report on the vendetta carried by the Night Lords. There's also Lords and Tyrants, an anthology of short stories from some of the Black Library's best authors that shines light on figures and legends not often explored on the main stage.
The final tier shovels another dozen books into the reading backlog for just £13 ($18), along with every title in the previous two bundles. Learn about the all-consuming threat of the Tyranids in The Great Devourer omnibus, containing a full-length novel, four short stories and four novellas all focusing on humanity and its ostensible enemies learning just how far down the galactic food chain they really are. Rise of the Ynnari: Wild Rider shares the tale of an Aeldari troop struggling to uncover the mysteries of a necrontyr tomb world before their people's way of life is completely wiped out.
The Humble eBook Bundle: Warhammer 40,000 Stories 2021 runs through April 26th, and purchasers can choose to route any amount of the cost when checking out to benefit the EveryLibrary Institute. The non-profit organisation works to secure funding for community, school and university libraries in the United States.